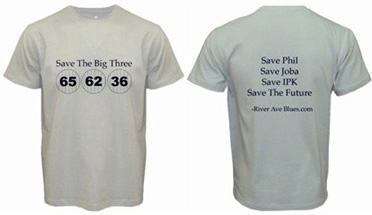 If, for some reason, you're just finding this post, these shirts no longer exist. Sorry. But they were pretty sweet at the time.
It's all we've been talking about for the past week: Should we trade for Johan Santana? Hells no! Why would we risk trading one of our big prospects for a guy who has seen a consistent increase in his BA/OBP/SLG against over the past four years? It's time to take a stand. It's time to keep our prospects.
Get your "Save The Big Three" T-Shirts here. We have a variety of styles: gray t-shirt, white t-shirt, navy t-shirt (though there is no text on the back of those), women's t-shirt, and long-sleeve t-shirt. Larger pics of the gray available after the jump and by clicking on the image at the top of this post.
You can buy these snazzy T-Shirts right here.