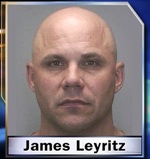 Jim Leyritz was reportedly arrested on suspicion of DUI and vehicular homicide early Friday morning. Miami's Local 10 has more:
Police said Jim Leyritz was behind the wheel of a Ford SUV that collided with another vehicle at the intersection of Southwest Seventh Avenue and Second Street in the Himmarshee area of downtown Fort Lauderdale.

The impact caused the other car to roll over and the female driver of that vehicle was ejected and she died after being taken to Broward General Medical Center, police said.
Leyritz, a fan favorite when he played in the Bronx, currently works for MLB.com. Things do not look good for the King right now.