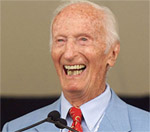 Of the many injured Yankees, the one nostalgic fans miss the most is soon-to-be centenarian and long-time Voice of the Yankees Bob Sheppard. Sheppard has been on the DL, so to speak, since the end of September with a very bad illness.
But today, we learn some good news: Sheppard hopes to be back in the booth by July 1, and he definitely wants to be in the booth for the All Star Game and for the opening of the new stadium. No word on if the Yanks plan to schedule any rehab appearances for the Hall of Famer in Trenton or Scranton.
Via PeteAbe, we find a site called Busted Halo and an interview with Sheppard. Sheppard, who won't give out his age, is rumored to be 98 years old and has been announcing games for 57 seasons. In the interview, Sheppard talks about his illness:
Up until my recent illness, I have been physically fit for somebody my age. But last January for some reason or other, life caught up with me, and I began losing weight. I had a very serious problem with my lungs because of a bronchial problem and I was hospitalized. I had lost weight. I had gotten down to 103 pounds!
He talks about returning to the Bronx:
According to the doctor, when I reach, "my fighting weight" about 145-150, he will allow me to go back to Yankee Stadium and finish the season. So my target date to be back is July 1. There is an All Star Game to be played at Yankee Stadium on July 15th and one of my goals is to be there and announce it. I did one years and years ago at Yankee Stadium but I can't recall it. So now this would be something to remember. I do want to be there next year when we open a new Stadium. And I'd like to be the one who says, "Good Afternoon Ladies and Gentlemen…Welcome to the NEW…Yankee Stadium."
From the way he talks, it sounds like Sheppard's illness was more serious than anyone had really reported. I'm glad to hear that Bob's on the mend, and I'm eagerly awaiting his return to Yankee Stadium. It's just not the same without him.