A comment in Paul's insightful guest post got me thinking. The idea was comparing the 1990 team to the 2008 team. Clearly, there is a huge flaw in this. The 1990 team wasn't nearly as talented as its 2008 counterpart. The 1989 team did not win 94 games and make the playoffs. And the 1990 team didn't have a handful of future Hall of Famers.
But this did get me thinking. How did we go from the bottom of the AL East in 1990 to dominating in the strike-shortened 1994 season?
Now, this is not as deep a look as we can take into this matter. I'm not going to be able to comment on the environment in baseball at the time, because I don't remember it as vividly as I'd like. But we can at least take the moves as they happened, and show how a last place team became a first place team, in just the fourth year after dwelling in the cellar.

1990 team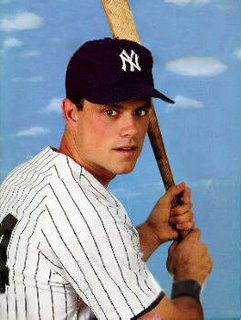 Last place. It hurts so bad. But that's what happens when none of your starting pitchers can get their ERAs under 4.00. It's also what happens when your best pitcher is Tim Leary, who threw 208 innings that year, over 50 more than the next closest pitcher on the team. Chuck Cary, Dave LaPoint, and Andy Hawkins shouldered most of the load, and didn't do so impressively. They all — Leary included — finished with ERA+ figures under 100.
We also saw Mattingly's back problems begin to manifest themselves. After a quality 1989 season, he played in just 102 games in 1990. His replacement, Kevin Maas, filled in admirably, but couldn't maintain his performance from the month following his call-up.
From Matt Nokes (a sentimental fave) to Oscar Azocar to Alvaro Espinoza to Mel Hall, it was no wonder why they finished in the gutter. But change certainly started during the season. On June 4, Major League Baseball held its annual amateur draft. While the Yankees top picks didn't exactly work out for the organization — Carl Everett with the 10th overall pick, and Robert Eenhoorn (remember his cups of coffee?) in the second round — the Yankees did make two of the more important picks in franchise history: Andy Pettitte in the 22nd round, whom they would sign a year later as an amateur free agent, and Jorge Posada in the 24th round.
(Before that, actually, in February of 1990, they signed an amateur free agent by the name of Mariano Rivera.)
In that off-season, the Yankees did not do much in the way of acquisitions. It's tough to do for a basement-dwelling team. They trimmed the fat, releasing Wayne Tolleson, who was absolute crap at age 34. They let Dave Righetti, he of the July 4th no hitter, but at the time a 31-year-old closer, walk. Before the start of the season, they released veterans Rick Cerone, Steve Balboni, and Dave LaPoint.
They did re-sign Tim Leary, though. It's tough to let your only 200-inning pitcher walk. Strangely, they also brought in Steve Farr to close games. The then-34-year-old was coming off a stellar season, pitching to a 1.98 ERA over 127 innings. He would become the Yankees closer and dominate for the next two years. Strangely, though, this move ended up having little to do with building the team. They also brought in Steve Howe.
1991 season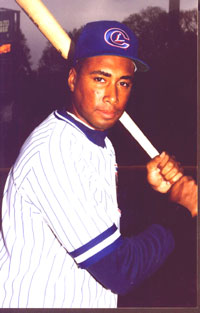 Perhaps one of the best things to happen to the Yankees in 1991 was Roberto Kelly's injury. Of course, I was a disappointed lad at the time, seeing as Kelly was a young and exciting player. They did replace him with another young player, though I didn't find him exciting at the time: one Bernabe Figueroa Williams. The 22-year-old wasn't terrible in his audition. hitting .238/.336/.350 in 320 AB. Still, I celebrated when Kelly returned.
In 1991, we saw Jesse Barfield, one of their best players from a year prior, befall injury, playing in just 84 games. They also saw Kevin Maas in his true form. While Mattingly played the whole season, the offense was basically a wash.
Pitching-wise, it was the original Big Three: Jeff Johnson, Wade Taylor, and Scott Kamieniecki, though they were a bit older than our current crop of young pitchers. But they were pretty much bust, though Kam was promising in his 55 innings. Too bad he was 27 at the time.
The off-season was a bit of a push. They infamously signed Danny Tartabull, a move that could have set them back years, but thankfully didn't. They finally cut bait on Steve Sax, getting Melido Perez and Bob Wickman from the White Sox. They cut Chuck Cary, who sucked in his limited innings. Charlie Hayes came our way for just Darrin Chapin. Mike Stanley came our way via free agency, a move that would end up working out rather well. And, on March 17, 1992, the Yankees released Alvaro Espinoza.
1992 season
Almost .500! The Yanks finished 80-82, a nine-win improvement over 1991. Replacing Stump Merrill with Buck Showalter sure seemed like a genius move, considering the team's relative lack of activity in the off-season.
But boy, did that Sax trade look good! Melido Perez tossed nearly 250 innings of 2.87 ERA ball. Unfortunately, the rest of the staff was complete crap, save for 60 decent innings by 1990 draft pick Sam Militello.
Of course, more important things happened in 1992 than the way the team played. With the sixth pick in the amateur draft, the Yankees took a risk. They took a shortstop who was committed to the University of Michigan. Yes, I'm talking about Derek Jeter. Unfortunately, the rest of the draft was crap. But clearly, this move would change the franchise forever.
The off-season would bring more positive change. Mel Hall, a malcontent in the clubhouse, was granted his free agency, never to pick on Bernie Williams again. Jesse Barfield, who played in just 30 games in 1992, was granted his free agency as well. So much for our return on Al Leiter.
However, the real fireworks happened after that. Well, the first actually happened a day before Barfield was granted free agency. The Yankees traded Roberto Kelly for Paul O'Neill, a right fielder who had slugged just .373 the year prior. It was an underrated move at the time, though it immediately paid off. This not only allowed the Yanks to slide Tartabull (whose first year was actually pretty decent) to the DH slot, it moved Bernie Williams, who hit very well once called up in August of 1992, into the permanent center field slot.
Another question persisted: What to do with J.T. Snow? He was the Yanks' No. 1 prospect at the time, but was blocked by the greatest active Yankee. So they dished him to California for Jim Abbott. He wasn't great in New York, but he was a great story, and we'll always remember the no-no. If I remember correctly, the Yankees actually wanted Chuck Finley at the time, even though he was five years Abbott's senior.
Before the Christmas break, the Yanks made two more important acquisitions: Jimmy Key and Wade Boggs. Key was an absolute stud on Toronto's two World Series teams, and Boggs, one of the best hitters of his generation, would replace Charlie Hayes, who was snatched up by the Rockies in the expansion draft.
1993 season
The improvements continued, as the Yanks added another seven wins to their total, going 87-75. The offense was powered by Mattingly, O'Neill, Boggs, and a stellar performance by Mike Stanley. Danny Tartabull contributed 34 doubles and 20 homers to the offensive onslaught. And 29-year-old Jim Leyritz hit .302/.410/.525 in his 259 at bats.
But, like the Yankees juggernauts of recent years, the pitching side faltered. Paul Gibson was the only member of the pen with more than 20 innings and an ERA below 4.00. Jimmy Key was the only starter who finished under 4.37 (Abbott's ERA).
With their second place finish, the Yankees seemed poised to strike. They just needed some pitching. But that's not so easy to come by, as we've learned in recent years.
Actually, they did sign a pitcher in August of 1993 as an amateur free agent. He'd actually go on to have a remarkable major league career — though not for the right reasons. The man's name: Victor Zambrano.
1993-1994 off-season
For a team with pitching as poor as the '93 Yanks, you'd think they would have brought some in. But they did not. The only moves they made were two trades, both of which worked out horribly. They got Terry Mulholland from the Phillies, and Xavier Hernandez from the Astros.
On the offensive end, they brought back Luis Polonia, and signed 31-year-old Daryl Boston as a backup. Oh, and they cut bait with Kevin Maas and Hensley Meulens.
Why did I make such a short section for the off-season? Because the Yankees really did nothing. They stood their ground. And sometimes that's the best thing to do.
1994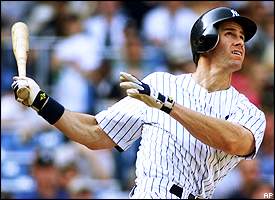 So what happened in 1994 that was different from 1993? Well, Wade Boggs and Paul O'Neill knew no mercy, raking their ways to stellar shortened seasons. Bernie Williams, at 25 years of age, continued his breakout. Luis Polonia provided a .384 OBP. Mattingly had a .397 OBP, though his slugging was just .411. And Mike Stanley hit the cover off the ball once again.
The pitching, though, was in basically the same shape as the year before, though Kamieniecki, then 30, kept his ERA at 3.76 over 117.1 innings. Key was again the ace of the staff. Steve Howe pitched to a 1.80 ERA as the closer, but only locked down 15 games. Something tells me that had plenty to do with the Yankees stellar offense.
What can we learn from this?
Worst to first is always a heartwarming story. But looking back over the story, it seems to be a bit chaotic. There doesn't seem to be a formula that allowed the Yankees to rise up to the top. But that won't stop us from guessing.
Here's my take, and I encourage you guys to put together your thoughts in the comments (not that it needs any prompting).
O'Neill was kind of like Boston's Ortiz signing. Both had been pretty average, putting up OPS+ figures of around 100 for the most part, with a 120 in there for good measure. Both broke out when moving to a new team. There was no real way to predict that Paulie would hit that well, but the Yanks took a gamble on an underperforming player.
I'm surprised by how little of this had to do with pitching. Jimmy Key and Jim Abbott were the only starters of note acquired during this period, though Farr and Howe were quality acquisitions as well.
They seemed willing to cut players who weren't producing. This really helped them after the 1990 season. Of course, it's easier to do that when you're losing.
In retrospect, 1994 seems like an anomaly. They got huge years out of a few hitters, which masked their poor pitching. The next year, when Jimmy Key was injured most of the year, they found out that yeah, even with a good offense, you need those arms. Boggs and O'Neill still hit well, but regressed from '94, as did Stanley. Mattingly fell to below average. Polina dropped off. It wasn't until they brought in David Cone to go with Jack McDowell that they started to turn things around and make a run at the Wild Card.
Of course, this set them up well for 1996. Their earlier draftees, Jeter and Pettitte, would come in to help. The acquisition of Cone proved invaluable, aneurysm or not. The signing of Mariano Rivera paid off. They key off-season trade of Russ Davis for Tino Martinez was huge. But the building blocks of the 96 team were put into place before 1996.
To be clear, I'm not writing this to show what the Yankees can do now to rebuild the team. There's no way they can pull off such a string of moves. Signings like O'Neill and Ortiz don't come along often. They'd never be able to get a pitcher like David Cone for Marty Janzen, Jason Jarvis, and Mike Gordon. And you can't count on a player like Boggs, entering his age 35 season and coming off the worst of his career, to pan out so well.
The truth is, the Yankees got remarkably lucky with a number of these moves. The luck even continued down the road, as they got a career year from Scott Brosius right after trading for him.
Unfortunately, we haven't been as lucky recently. True, many times we set ourselves up for failure. But in order to achieve the greatness of the late 90s Yankees, you need more than a few lucky breaks.