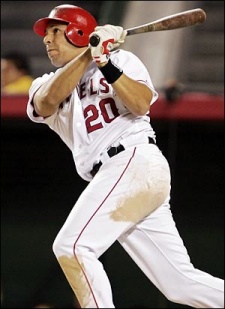 At FanGraphs yesterday, Dave Cameron mentioned Juan Rivera as a free agent bargain. The 30-year-old will hit free agency for the first time this off-season, though his stock is far from its highest. His 2007 and 2008 campaigns left much to be desired, the former being dramatically shortened after breaking his leg during winter ball, the latter due to the Angels having a logjam in the outfield and only getting him 280 trips to the plate. In those 280 appearances, though, he hit a paltry .246/.282/.438. Not much of a contract year performance there.
Presumably, the Angels will let Rivera walk. They already have Torii Hunter, Gary Matthews, and Vlad Guerrero under contract for 2009, they have Reggie Willits to fill in as a 4th outfielder, and there's a chance they could bring back Garret Anderson, whose 2009 option they declined yesterday. With those options, plus Rivera's ineffectiveness, the outfielder could find himself in a new home in 2009. Why not bring him home to the Bronx?
Don't get me wrong, though. I'm not advocating we sign Rivera to replace Bobby Abreu, per se. Given his issues, Rivera could be a cheap signing this winter. A few teams may be in for his services, but it's not like he's going to score a 3-year, $15 million deal anywhere. Likely, he'll get a year and maybe an option, and a salary, I dunno, below $2 million, maybe with some incentives. That's just a guess, though. You never know what's going to happen during the Hot Stove.
Ideally, the Yanks get Rivera as their fourth outfielder. This leaves them with Damon in left, Melky/Gardner in center, Xavier in right. Rivera is mostly a right fielder, so when he plays Xavier can move to left and Damon can shift to center or play DH. Or Xavier sits. There are plenty of ways the Yanks can work this. It means that both Melky and Gardner start in center field — one for Scranton-Wilkes Barre, though.
We do know that Rivera had skills, and could bring it at the plate. Those skills have certainly eluded him over the past few years, and there's no guarantee that they'll come back. Say they do, though. Say he takes to an off-season workout and comes into camp ready to hit like he did in 2006. You then have a good problem on your hands. You can play him in right, Xavier in left, and then have three center fielders to choose from. You can dish Damon to a team whose center fielder bites the dust early. You can put him in center and hope that your offensively superior outfield can hang defensively. The chances of this are slim, but it's still a possibility. That's why it's called a flier.
Outfield certainly isn't the top priority of the off-season, but the Yankees could pull a small move like this in order to give them some flexibility and open up their options. Rivera is a guy who has the potential to start, but you can live with as a bench guy. Even if his best years are behind him, he still has some power — he hit 12 homers in those 280 plate appearances. It's doubtful any team pursues him as a starter, so teams should be on pretty much even ground. Since the Yankees have the financial advantage, they could probably pull him in if they really wanted. I think they should. Do you?