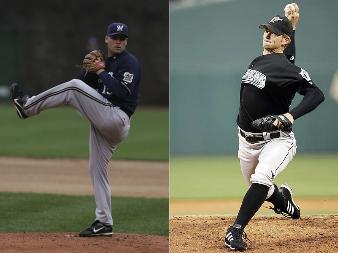 They're both free agents, they both have top notch power arms, they have an equal amount of playoff experience (zero innings), yet one has been much more sought after this winter than the other. Widely considered to be the best non-Sabathia pitcher available this offseason, AJ Burnett has been a hot commodity, drawing rumored interest from as many as eight or ten teams. Ben Sheets, on the other hand, has heard his name garner nary a whisper early in the Hot Stove League despite starting the All-Star Game just four months ago. Why is this?
In terms of pure stuff, you're looking at two very similar pitchers. Both work heavily off their fastball-hammer curveball combo, mixing in a changeup ranging anywhere from average to unhittable depending on the day. Burnett throws harder (average fastball velocity over the last four years is 94.9 mph according to Fangraphs), but Sheets isn't exactly a soft tosser, averaging 92.8 mph on his heater over that time. Both have used their outstanding stuff to post historic outings; Sheets struck out 18 Braves in 2004 while Burnett no-hit the Padres back in 2001. AJ Burnett has arguably the best arm in the big leagues, but make no mistake about it, Ben Sheets ranks right up there are well.
Unfortunately for them, these two share more than just immense talent – they've both earned the "injury prone" label. While frequent DL trips is an unquestionable negative, it's necessary to take a deeper look to see what's really going on. Here's Sheets' DL history:
Aug 14, 2001 – Sept 21, 2001: rotator cuff tendinitis
April 25, 2005 – May 27, 2005: viral & ear infection
Aug 27, 2005: torn lat muscle (out for remainder of season)
Mar 30, 2006 – April 16, 2006: right shoulder strain
May 10, 2006 – July 24, 2006: right shoulder tendinitis
July 17, 2007 – Aug 29, 2007: sprained middle finger on throwing hand
Sheets avoided the DL in 2008, however he suffered a torn muscle near his throwing elbow late in the year (no ligament damage) and made only one start after Sept. 17th. In his eight year career he's visited the DL six times, three times because of his throwing shoulder. The viral & ear infection is what it is, and the lat muscle hasn't given him any trouble in the three-plus seasons since the tear. The finger injury has also been a non-factor since returning from the DL.
The shoulder issues in 2006 are almost assuredly related as they occurred so close together, so it could just be that he came back too soon (his 6.64 ERA in four starts between DL trips supports this claim). If you lump those two incidents together, then he's basically had two problems with his shoulder since 2001, and they came four-plus seasons apart. Shoulder trouble is definitely a red flag, but it's encouraging that he hasn't had any problems since. There doesn't seem to be much info available regarding his latest ailment beyond it being a torn muscle, so I can't comment on that. It's something that due diligence during the recruiting process needs to cover.
Now, Burnett's DL history:
April 1, 2001 – May 1, 2002: stress fracture in right foot
Aug 19, 2002 – Sept 14, 2002: bone bruise in right elbow
Mar 29, 2003 – April 9, 2003: right elbow inflammation
April 26, 2003 – June 3, 2004: right elbow inflammation, had Tommy John surgery and returned to action the following year
March 27, 2006 – April 15, 2006: right elbow soreness (Wikipedia says a piece of scar tissue from TJ broke loose)
April 22, 2006 – June 22, 2006: more right elbow soreness
June 19, 2007 – June 28, 2007: right shoulder soreness
July 3, 2007 – Aug 12, 2007: more right shoulder soreness
Burnett also spent part of the 2000 season on the disabled list, however I can't find the exact dates or injury anywhere. Tommy John surgery has essentially affected him in three seasons – 2003, 2004 and 2006 – and he's experienced elbow problems in 2002 as well. Two months of shoulder problems in the middle of 2007 round out his arm troubles. The stress fracture in his foot is just one of those things, and it hasn't given him trouble since.
So comparing the two pitchers side-by-side, Sheets' injuries appear to be more isolated that Burnett's. The shoulder problems occurred so far apart that it would be hard to believe they're related, while the torn lat and finger issues are behind him. Burnett's shoulder problem looks very much like an isolated incident, however his elbow has been a persistent problem, giving him trouble in four different seasons, however it hasn't bothered him in over two years. Burnett just completed his first healthy season since 2005, while Sheets was about to do the same (I just can't accept an ear infection as evidence of him being injury prone) until his late season muscle tear. And that is why you're hearing much less about Sheets this winter, because he's injured right now.
Despite the injuries Sheets has at least demonstrated some semblance of durability in the past, making 34 starts for three straight years (2002-2004), throwing the fourth most innings in baseball over that time. This year he was just five outs away from recording his fourth 200 IP season since '02, something only 19 pitchers have done in that time. All told, he's made 30+ starts in a season four times (including 2008), and 22+ starts in seven of his eight big league seasons. Burnett on the other hand has thrown 200 or more innings in a season three times, each three years apart ('02, '05, '08). He followed up the first two instances with less than 136 innings the next season, and it remains to be seen what he has in store for 2009. Burnett eclipsed the 30 start mark for just the second time in his career this year, and has made it to the bump for 22+ starts just five times. Long story short, Sheets has made more starts (221) and thrown more innings (1428) in his eight year career than Burnett (211, 1376.2) in his nine-and-a-half year big league career.
Okay, time to get away from all this injury stuff, it's depressing.
I already talked about how both guys have great stuff, but it's Sheets who makes better use of it because of far superior command and control. Since age 24, Sheets' worst single season walk-rate is the 2.36 BBper9 he posted in 2007, meanwhile Burnett's best single season rate is the 2.59 BBper9 he put up in 2006. Over the course of his career Sheets has walked just 1.97 batters per 9 innings, giving him a 3.85 K/BB ratio in his career. Burnett on the other hand has walked 3.71 batters per 9 in his career, and has just a 2.25 K/BB ratio. Sheets has hit just 16 batters since 2003, Burnett has plunked 21 in the last two seasons alone. Sheets has thrown more than 66% of his pitches for strikes since 2002, Burnett just over 61%. So on and so forth.
If you're into clutchiness, Sheets has Burnett beat in WPA (2.32 to 0.35), BRAA (86.39 to 62.93), WPA/LI (1.77 to -0.22), OPS against w/ RISP (.683 to .705), OPS against in "close & late" situations (.674 to .755) … again, so on and so forth. And before we go any further, don't even try that "ZOMG Sheets has been in teh NL his whole career!!111!" crap. Those are all career stats, and less than 38% of Burnett's career innings have come with the Jays. That's not nearly enough to skew the numbers that far to one side. If awards do something for you, Sheets has been an All-Star four times, and only once (his rookie year in 2001) did he make it as the token Brewer. He also got hosed in the 2004 Cy Young voting, finishing eighth despite being the best pitcher in the league not named Randy. AJ Burnett? Never been an All-Star, never placed in the Cy voting.
So while AJ Burnett and agent Darek Braunecker say they'll only consider five year contract offers, there sits Ben Sheets – 18 months younger – all by his lonesome, all because of that muscle tear in his arm. Muscle tears are obviously serious, but it's not like he needs Tommy John surgery or major shoulder work. We haven't seen any reported contract demands out of Sheets and his camp, but this injury limits his marketability, especially with so many other quality free agent pitchers available. Granted, he's still going to make some major coin, but Sheets will probably have to settle for less than he would have gotten if he finished the year healthy.
Someone's going to pay AJ Burnett $16-18M for the next four or five years, but doesn't it sound like Sheets would be a wiser investment, even at that price?