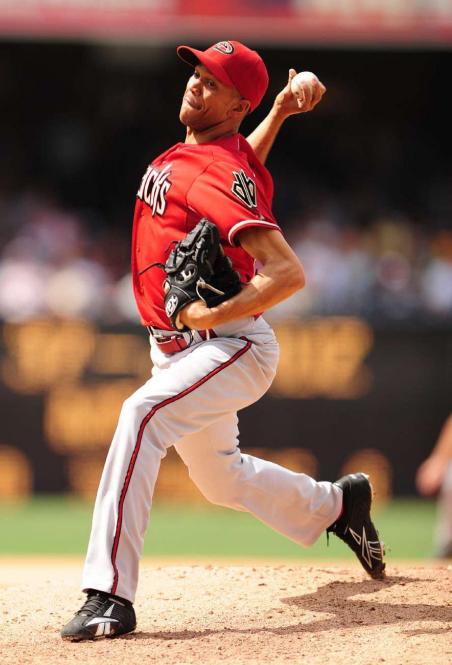 Earlier this week Buster Olney noted that baseball's free agent compensation rules are working against some of the remaining free agents, pointing out that teams are reluctant to forfeit high draft picks for guys that are considered complimentary players. Jason Varitek and The Orlandos – Hudson & Cabrera – immediately come to mind. Another such player is Juan Cruz, the ex-Cubs' prospect and Diamondbacks' setup man. Having declined arbitration after making $1.9375M last year, Cruz hit the free agent market for the first time in his career this year with the Type-A designation stamped on his back. For most teams that means losing their first round pick, but the Yanks aren't in that spot.
KLaw's 7th best available free agent (sub. req'd), Cruz's calling card has always been his control, or lack thereof.  Once considered the sixth best prospect in the game by Baseball America (back in '02) because of his live arm, Cruz's descent from future ace to setup man was due to his inability to throw strikes with any consistency. He threw strikes with only 58.6% of his pitches as a rookie in '02, improving slightly to 61.1% in '03 and 61.8% in '04. He's sat right around that level ever since. By no means is it a great strike rate, but in the last few seasons he's established himself as effectively wild.
Like I said, Cruz has a seriously live arm. It works quick and easy, allowing him to pump fastballs that have averaged just about 94.5 mph the last few years. His slider is equally electric, sitting in the low 80's with sharp break. He still has a hard changeup left from his days as a starter, but he rarely uses it (he threw it just 4.1% of the time last year). You can get a glimpse of how filthy Cruz can be in these highlight clips from 2006 and 2007, unfortunately MLB.com doesn't have anything from last season.
While throwing strikes and limiting walks are his weak point, Cruz's biggest asset is his ability to miss bats. Hitters made contact on just 66.0% of the swings they took on Cruz's pitches last year, down from 69.9% in '07 and 77.4% in '08, meaning he got tougher to hit as he entered his prime (which, obviously, makes sense). He allowed less contact last year than K-Rod (69.3%), Joe Nathan (70.0%), Jon Papelbon (77.2%), Mo (76.3%), Joakim Soria (75.1%), Carlos Marmol (73.6%), you name 'em. Opponents hit just .192 off Cruz last year, and his strikeout rate over the past two seasons is an ungodly 12.62 Kper9, the best in baseball by more than half a strikeout. His CHONE projection for '09 is solid in case you're wondering: 68 IP, 3.31 ERA, 1.31 WHIP, 11.51 Kper9, $6.1M in value.
In a world where Kyle Farnsworth is guaranteed $9.25M in his age 33 & 34 seasons, locking Cruz up for say, $3-4M per year for his age 30 through 32 seasons would be a steal. The Nationals, Dodgers and Brewers (at least before they locked up Trevor Hoffman) have expressed interest in Cruz this offseason, and I suspect bullpen starved teams like Detroit and Texas may be lurking in the weeds. Having already coughed up their first, second and third round draft picks as compensation for Mark Teixeira, CC Sabathia and AJ Burnett, all the Yanks have to lose for signing Cruz is their fourth rounder, hardly a deal breaker (here's a list of all the Yanks' fourth round picks, basically a whole bunch of nothing). Combine that with the down financial market for free agents, and what's not to like?
There's no such thing as too much bullpen depth I say, especially when you're talking about super high strikeout guys like this. I'd love to see the Yanks lock Cruz up, sit him next to Edwar Ramirez in the Derek Zoolander Center For Children Who Can't Read Good Mariano Rivera Center for Relievers Who Can't Pitch Good And Wanna Learn To Do Other Stuff Good Too, and see what happens. They just might get something special out of it.