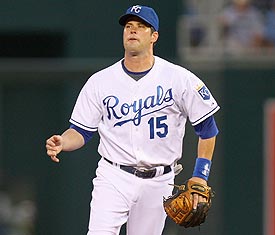 For the bulk of last month and all of this month, much of the talk in Yankeeland has revolved around the bench. The conversation tends to tip this way in the winter months, after the big signings have been made and the team is in what Brian Cashman calls "nonroster invitee mode." This is actually good news for the bench, since teams can find undervalued players who can take on a utility role. These are no-risk moves that can bring decent rewards if the player pans out and can handle a part-time role. Yet there's one name I can't help but notice on the free agent list, who likely wouldn't take a non-roster invite deal, but could immensely improve the Yankees bench.
Not only has Mark Grudzielanek not signed yet, but I can't remember hearing his name mentioned this winter, at least since he rejected the Royals offer of arbitration. This is actually a bit strange, since he'd probably sign at a reasonable salary, and provides good defense and a decent bat for a middle infielder. Plus, he doesn't cost the signing team a draft pick. If there are any teams actually interested in Orlando Hudson, I don't know why they wouldn't look to Grudz first.
The downsides of Grudz seem to wash with the upsides. He will be 39 in June, meaning he's susceptible to decline. He also missed the last two months of the season with a torn deltoid ligament in his right ankle. Yet in the later stages of his career he's put up fine numbers for a second baseman, and according to his UZR, he's been at least a decent defender since they started tracking the stat. Not sure how he'd do at shortstop at this stage, but he can probably play it in a pinch. He might even be able to play it as well as Angel Berroa.
Why would Grudzielanek, a starter his entire career, want to back up the Yankees infield? He wants to win. The Yankees present him an excellent chance to do just that. It would come at the sacrifice of playing time, so it's a matter of whether that's worth it to Grudz or not.
At this point he's probably still waiting around for an offer to start comes around, but as we get closer to Spring Training he might change his tune. If he was willing to play for a mediocre team he could have just accepted arbitration from the Royals and took home at least $4.5 million. Maybe Philly makes him an offer and he goes there because of their uncertainty with Chase Utley early on and Pedro Feliz all the time. But if he ends up signing as someone's utility infielder, I'd prefer it be with the Yankees.
Photo: Getty Images