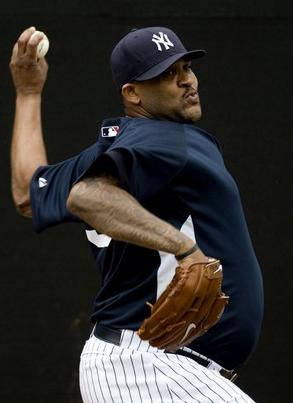 We've had a pretty good idea of what the Yanks' 2008 rotation would look for weeks now, but Joe Girardi made it official today. CC Sabathia gets the ball on Opening Day, and will be followed by Chien-Ming Wang, AJ Burnett, Andy Pettitte and Joba Chamberlain. I'm glad to see Wang – the senior member of the rotation in terms of consecutive seasons with the team – get the nod for the two hole.
HowEVA, the more interesting story is that the plan calls for Joba to make roughly 30 starts. It's just a plan, and I think they're using term loosely at that. You know they're not going to push him too hard past his innings limit. I think that more than anything, this means they won't skip him so much on off-days early in the year just to make sure he gets those innings in. When he hits his cap, worry about it then. The playoffs are far from a given in that division.
Anywho, the Yanks actually played a game today, beating the Jays 6-1. Brett Gardner hit a homer on the second pitch of the first plate appearance of the preseason, so helloooooooo World Series! A-Rod hit a two-run jack and drew a pair of walks, Derek Jeter singled, Robbie Cano singled and was hit by a pitch, and Nick Swisher walked twice, once with the bases loaded after an 0-2 count. Austin Jackson and Jesus Montero each picked up a hit after entering the game in the later innings. Brett Tomko started a threw two strong innings, and the prospect quartet of Chris Garcia, Mike Dunn, Steven Jackson and David Robertson combined to throw four shutout innings, the only baserunner coming on a D-Rob walk. They'll play the Rays tomorrow at 1pm, and the game will be on YES.
Here's your open thread for the night. The Rangers, Islanders, Knicks and Nets are all in action tonight, and MLB Network will be carrying the Red Sox-Twins game at 8pm. Have fun.
Note: Dave Kaplan, Director of the Yogi Berra Museum on the campus on Montclair State, asked us to mention that some of the Baseball Prospectus guys will be making an appearance to talk about the upcoming season on Sunday, March 1st at 2pm. For more info, call 973-655-6891.
Photo Credit: Reuters Pictures