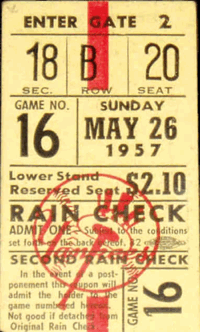 As long-time RAB readers know, I have been a particularly vocal critic of the new Yankee Stadium. In fact, until Friday, our mantra was "Because we won't tear down Yankee Stadium." While with its faults, old Yankee Stadium and the four million fans it drew each year for the last three years could have been modernized with an overhaul instead of total destruction.
That said, as Opening Day at the new stadium draws nears, I take no pleasure from being able to say "I told you so" to numerous fans and bloggers who assumed the transition to the new digs would be seamless. In fact, the Yanks have come off looking pretty bad as problems with season ticket relocation plans have mounted.
Here at RAB, we touched upon the issue of relocation back on Feb. 2. Since then, the firestorm has grown louder, and things came to an Internet-inspired head yesterday when Jay Jaffe unleashed his tirade against the Yankees. After 11 years of blissful life in the Tier Boxes, Jaffe was relocated to — wait for it — partial view seats behind the foul pole in fair territory in the right field grandstand at a price three times more than he expected. He was angry, angry that the team is jacking up price, angry that they are reducing capacity by over 4600 seats:
Still, even if one could block that all out and simply focus on the relationship between one customer's wallet and his ability to put his butt in a seat at this new park, the bottom line is that this is an outrage, a disgrace, a catastrophe on the level of Joe Torre summoning Jeff Weaver from the bullpen in Game Four, a Bambino-rolling-in-his-grave nightmare over the successor to the House that Ruth Built. A chorus four million fans strong should be shouting four- and twelve-letter words at Yankee president Randy Levine and every incompetent front-office numbskull who played a role in this fiasco. A pox on the House that George Built.

The Yankees deserve every pixel of bad publicity they receive over this, every blankety-blank karmic quantum of bad yankety-blank karma. My friends and I are hardly the only customers wronged in such a fashion; an informal discussion with a few other longtime Yankees ticket holders who write for various sites (including this one) reveals similarly shoddy treatment. Indeed, all of us who have something at stake short of a full-season ticket package are being screwed because the Yankees have bungled this so badly that they can't possibly fulfill the demand. So naturally, their impulse is to trample the loyal customers who helped carry them past the three million and four million attendance milestones over the past decade. This is a story worth illuminating, not only to fellow Yankee fans who may commiserate about finding themselves up the same fetid creek, but to baseball fans everywhere.
Jaffe of course isn't alone. As The Hartford Courant and Newsday explore today, many Yankee fans are feeling slighted by this move, and it's making even the hardened among us wonder if we should root for this so-called "Stadium Experience" to fail.
The Yankees are mounting their own PR fight over this ticket debacle, but as Ross at New Stadium Insider notes, team COO Lonn Trost is starting off on the wrong foot. Mike Francesca, Ross reports, hopes to have Trost on later, and while Ross presents a bunch of top-notch questions Trost should field, the Yanks' official took a defiant tone with Newsday's Neil Bast:
Is there any chance you will drop prices on your most expensive seats? "No, our prices are our prices."

Is it true there are seats in the bleachers from which you can't see parts of the field? "Yes, but we will have TVs in the walls there."

That's not the same thing as seeing it live, is it? "We had a choice of selling it to somebody or not. If you come to the stadium you'll see there are TVs in the walls. [Some views are obstructed] a little bit, but for $12 it's a choice of taking it or not."
Many of the top price tickets remain unsold; hundreds more fans are upset; and part of me wants to ask, "Who really wanted or needed this fancy new luxury stadium experience thing in the Bronx anyway?" In a few years' time, we'll forget about these troubles, but the Yankees should relearn the old maxim that the customer is always right.