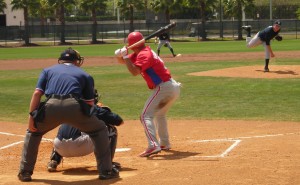 Phil Hughes made his first appearance yesterday since being optioned down to Triple-A Scranton on Saturday, throwing five innings of one run ball against the Phillies' top minor league affiliate. We don't have a box score, but Chad Jennings says Hughes allowed only one extra base hit, which eventually led to the lone run. More importantly, Hughes retired the side in order in the fifth when pitching coach Scott Aldred told him to throw first pitch changeups to every batter he faced in the inning. He wasn't facing a bunch of scrubs either, two of the three hitters he sat down in the inning were Shane Victorino and Jason Donald, an everyday player on a championship caliber team and the Phightin's best prospect.
"I'm throwing my changeup a lot, trying to get my cutter going," Hughes said. "I'm not throwing as many curveballs as I usually do, but that's kind of what spring training is for." Amen to that.
Elsewhere in the game, 2003 first rounder Eric Duncan played his first game outside of the infield, spending the entire game out in left field. In the never ending attempt to get some value out of him, the Yanks are having the Jersey born Duncan play some corner outfield this year to add some versatility to his game. Duncan only had to field three balls on the day – two that dunked in for hits in front of him and another fly ball near foul territory that he caught in stride. Baby steps people, baby steps.
Photo via Chad Jennings