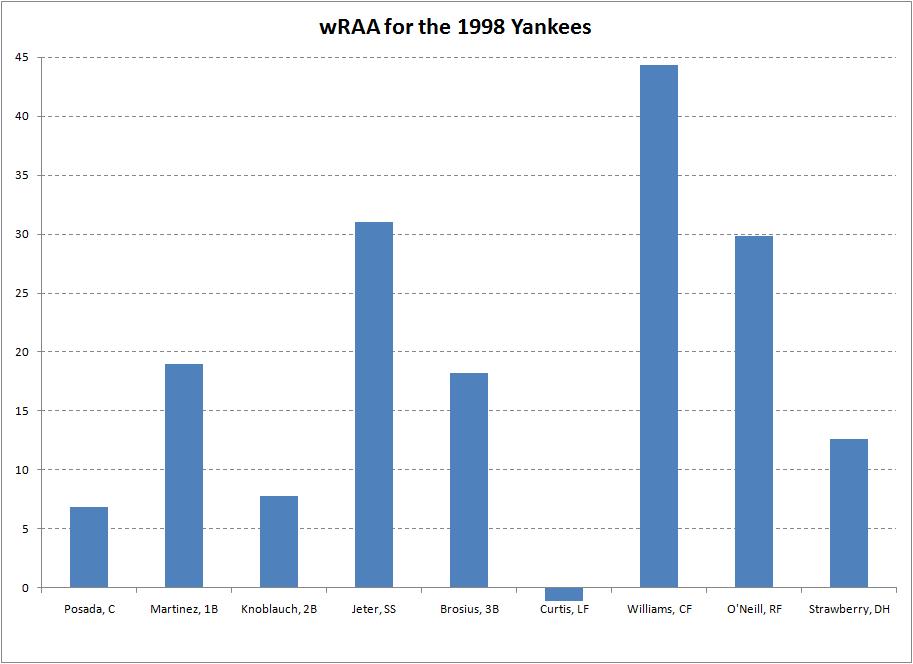 (click graph for a larger view)
The 1998 Yankees were just a beast. They scored 965 runs and allowed just 656, a ridiculous run differential of +309. +309! Their pythag record was 108-54, but they still managed to outperform that by six wins. Insane.
If you're not familiar with wRAA, read this. Essentially it's a weighted measure of how many runs above average a player is offensively. Some thoughts on the graph:
Bernie Williams was (and still is) so underappreciated, it's not even funny.
Four up the middle players: +90.0 wRAA. Four corner players plus DH: +78.5 wRAA. That's what you call a "recipe for winning."
If you discount 1998, Scott Brosius' career wRAA is -45.7. Yikes.
Derek Jeter (+31 wRAA) outperformed the DH, left fielder and first baseman combined (+30.5 wRAA).
Tim Raines also received significant playing time in left and at DH, chipping in another +7.7 wRAA.
Seriously, Bernie was great.
(inspired by this)