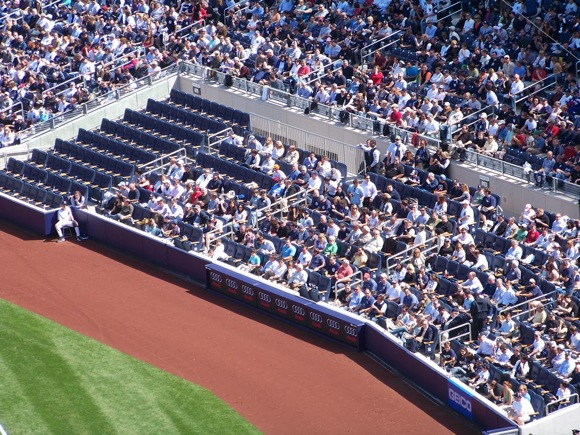 The expensive seats during Friday's thriller as seen as from above. (Photo by leokitty. Click any images to enlarge.)
On Opening Day, the Yankees blamed the sponsored tickets for the underwhelming and under-capacity crowd of 48,271. What then is there excuse for yesterday's dud of an attendance figure?
In only the second game of the season, the Yankees drew just 45,101, over 7000 fans under capacity, and people are starting to notice. "We saw that. I don't think I've ever seen that at Yankee Stadium," Jensen Lewis said of the empty seats after the game.
A few RAB readers were in attendance at the game, and they were pretty surprised by the empty seats. For more pictures and thoughts about the empty seats, click through.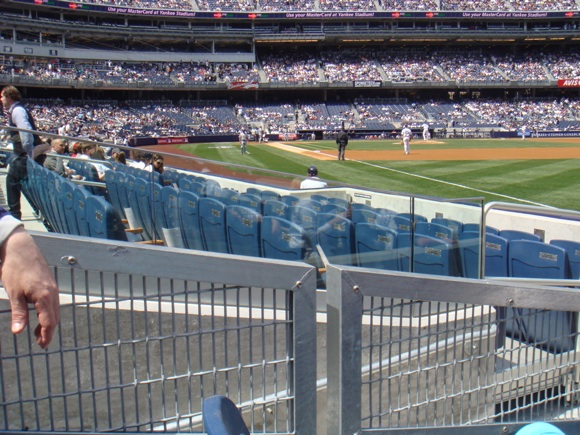 An entire section of the Legends Suites remained empty throughout the game. (Photo by A.M. Skollar)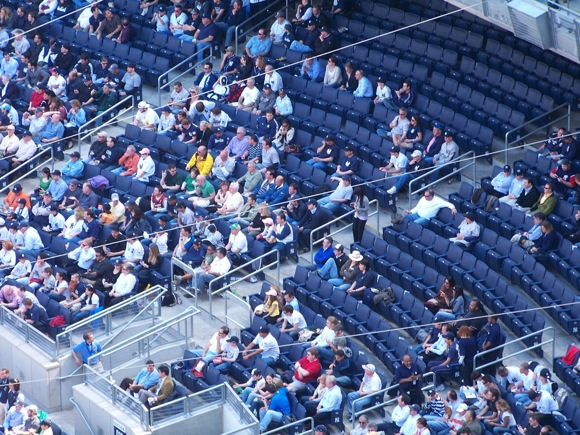 More empty seats in the Field Level seats. (Photo by leokitty.)
According to AP reports from the game, these Legends Suites usually sell for between $500 and $2625. Reporters at the game estimated that around half of those seats remained empty for the 1 p.m. start of the game. Behind that — in the field seats that go for $375 per game or $325 as part of a package — seemingly half of the seats remained empty as well.
Meanwhile, those of us watching the game at home are continually struck by the Legends Suite seats. They look like executive desk chairs or Business Class airline seats and less like a ballpark. The fans sitting in them often look like they don't know what's happening, and one fan was golf-clapping during Derek Jeter's home run. The people most noticeable and TV — those sitting closest to the field — are somehow transcending a baseball game.
The Yankees aren't paying much attention to the fans and the reportedly quieter stadium. "I don't really worry about that," Joe Girardi said. "It is Friday afternoon, a 1 o'clock game. People do work."
Derek Jeter too felt that the smaller crowd was more into the game today. "When we do something," he said, referring to the crowd's applause. "If we give them something to cheer about."
Yankee Stadium is still new. It's got a lot of nooks and crazy, a Great Hall, some fancy food, and a lot of areas to explore. Right now, the Yankees are banking on the distractions as the cause of this seemingly muted fan outpouring. The empty seats are another matter, but this year, at least, the team is hamstrung by the high prices.
For now, we'll give the Yanks the benefit of the doubt, but as Leokitty asked at The Girl Who Loved Andy Pettitte, "What if they made a field level, and nobody sat there?"