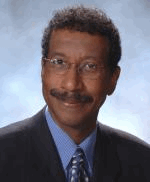 The Yankees can never replace Bob Sheppard. While the six-decade veteran of the Yankee Stadium public address booth says he's coming back this year, the 98-year-old is recovering from a very serious bout of pneumonia, and with rumors of his retirement swirling, the Yankees have named one-time TV broadcaster Paul Olden a permanent temporary replacement for Sheppard.
Olden is a veteran of the sports world. He has filled the PA job for the last 12 Super Bowls; he served as the play-by-play man for the Devil Rays in the early 2000s; and he worked for the Yankees with Phil Rizzuto and Bobby Murcer from 1995-1996.
For the Yankees, the choice of Olden represents something of a break from past practices. Olden has a deep, sonorous that feels like a good fit for any pro sports arena, but he's not Bob Sheppard. Last year, with Sheppard on the DL for the entire season, the Yanks went with Jim Hall, Sheppard's understudy and imitator. Now, they're trying to find a distinct voice to usher in a new stadium.
It really is too bad that Bob Sheppard could not be healthy enough to see in the new park. He started out broadcasting in 1951 and lived through 13 World Series championships, 18 managers, a few owners and too many pitching changes to count. While slight of build, Sheppard's voice will stand as a baseball icon forever.
Publicly, the Yanks have said that Olden is a temporary fill in. He'll be around only as long as Sheppard remains out. I have a feeling though this this temporary replacement may be more permanent than the Yanks anticipate.