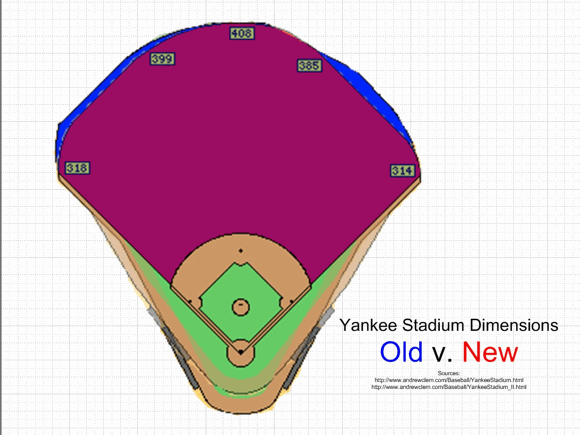 One day before the new Yankee Stadium opened for regular season business, I issued a warning on the stadium. Using the above graphic, I looked at the walls and the lack of foul territory and proclaimed the park a hitter's haven. Little did I realize how true my prediction would become.
In 23 games, the Yankees and their opponents have blasted 87 home runs at new Yankee Stadium. If that pace continues, the new stadium will witness 306 home runs this year. Last year, old Yankee Stadium served as witness to 160 long balls. That big of an increase doesn't come about due to a statistical anomaly or coincidence. Something is clearly up.
Over the first few weeks of the season, seemingly everyone has come up with their own pet theory. We blamed the unangled walls for bringing in the power alleys by a few feet. The Yankees have blamed unanticipated wind patterns brought about by the continued presence of old Yankee Stadium. The problem, they say, will be solved next year when the old park is gone. Weather experts have blamed the wind flow and claim that we will see even more home runs over the summer.
Yankee officals, meanwhile, continue to deny that much is different about the new park. It's becoming rather comical. Yesterday, Times reporter Tyler Kepner talked with Yanks GM Brian Cashman about the outfield fences and skyrocketing home run totals. Writes Kepner:
"I don't have any answers about wind studies," Cashman said. When I asked if he still believed the dimensions were the same as before, as some folks have disputed with visual evidence, Cashman said, "I've been told they're the same. I know they're supposed to be the same."
Now, we've been pretty steadfast Brian Cashman supporters for the last few seasons. We staunchly stood by him through the controversial winter of the 2007, but this year, he hasn't, in our view, done a stellar job with the roster construction in light of the team's injuries. He and the Yankees also seemingly mishandled Chien-Ming Wang's rehab.
These comments, then, seemingly continue a pattern of odd denial by the Yanks' GM. He may have been told that the fences would be the same, but anyone who has watched Yankee baseball for more than, oh, two weeks could tell you that they're different. We don't yet know the cause; we don't know the final outcome of the offense in the Bronx. We do know that pitchers are unhappy. It's painfully clear that the new stadium is a hitter's paradise, and if the Yanks care to even the field, they'll address it in November. So why is Brian Cashman going out of his way to deny the obvious?