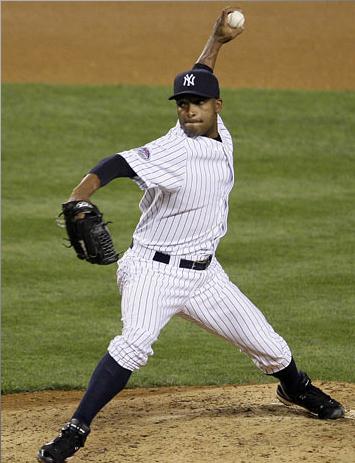 That is Damaso Marte, the second highest paid player in the Yankees' bullpen. In his ten big league seasons he has put up a 1.26 WHIP, 132 ERA+ and 9.70 Kper9. He last pitched in a game on April 25th, 2009, seven full days ago.
Amazingly, we've seen Joe Girardi manage his bullpen eerily similar to his predecessor Joe Torre: using the same two or three relievers day after day while the rest of the bullpen corps rot. The team is currently carrying eight relievers. Eight. Yet it seems like we're always having Jose Veras (awful) or Jon Albaladejo (he's had his moments) shoved down our throats.
Come on Girardi, you're better than this.
Photo Credit: Julie Jacobson, AP