The floodgates opened early last night, with the Twins and the Yankees combining to score eight runs in the first inning. One starting pitcher wouldn't make it through the frame; the other lasted two outs into the seventh. The Yankees were lucky enough to be on the right end of that equation. At the outset, it didn't appear they would be.
Pettitte didn't look sharp at all in the first, allowing three straight hits that plated two runs. After the victories of the past three days, this did not feel so good. A four-game sweep is asking a lot, sure, but is it so much to not let the game get out of hand early? Thankfully Andy recovered by retiring Joe Crede (why was he hitting fifth?) and Jason Kubel to end the inning.
Remember in the game thread when I mentioned that the Yanks needed something like their first two games facing Perkins last year? It was even better. As is often the case with big innings, the play-by-play captures that frame perfectly: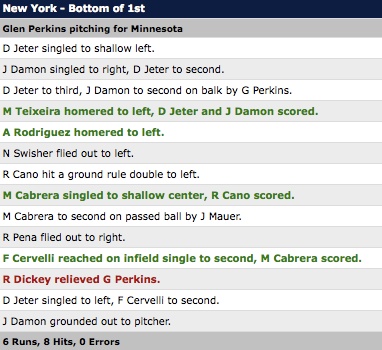 Both Teixeira's and A-Rod's home runs were no-doubters. They might not have been 420-foot bombs, but there wasn't a question of their departure once the bat hit the ball. It was a momentous occasion indeed, the first time Tex and A-Rod have gone back to back. We raise a glass to this and to many more over the next eight years.
It took two pitchers facing 11 batters while throwing 41 pitches to retire the Yanks. They recorded eight hits in the inning. It was one of those frames where you just kick back and enjoy the carnage. Everything after Teixeira's go-ahead homer was gravy, and there was enough to host a feast for everyone on RAB.
Foolishly thinking six runs were enough, the Yanks went into hiding for the next few innings, giving knuckleballer R.A. Dickey a relatively easy go of it. It took him just 12 pitches to retire the 3-4-5 guys in the second and the same number, despite a Robinson Cano single (erased with a caught stealing), in the third.
Meanwhile, Minnesota chipped away at the lead, picking up a run on a Mike Cuddyer homer in the fourth. They had a chance for more in the fifth, but Brendan Harris got caught between third and home on a grounder back to Pettitte. He might have been able to turn two there with a quick turn toward second, but Andy did the right thing by getting the lead runner. They did get another in the sixth, as Denard Span hit a soft fly ball to center, allowing Carlos Gomez to score from second.
With the Yanks lead cut to 6-4 and with Mariano unavailable for the night, things started to get a bit sticky in the sixth. The frame started out fine, with Melky hitting a hard single to right, followed by a Ramiro Pena single. Frankie Cervelli laid down a perfect bunt in a perfect situation, moving runners to second and third with one out and the top of the order coming up. Unfortunately, either Luis Ayala hunkered down or the home plate ump expanded the zone, as both Jeter and Damon went down looking. Gameday did not like the one to Jeter, but agreed with the Damon call.
The seventh…ugh, the seventh. One question dominates this frame: Why did Joe Girardi feel that he had a better chance with Jose Veras than with Andy Pettitte? Andy had already recorded two outs, though he had just walked Jason Kubel. Considering Kubel has been killing the ball, that's acceptable. So in walks Cuddyer, who had homered off Pettitte earlier. Apparently, this one at bat is worth more in Girardi's eyes than a season full of frustrating appearances from Jose Veras. And how does Veras reward Girardi's faith? By walking Cuddyer on five pitches to load the bases. If not for Carlos Gomez not being too good and particularly undisciplined, the inning might have gotten out of hand. But he popped up, and the Yanks were out of it.
This topic deserves a tangent, especially since Edwar Ramirez came in for the next inning and had his own troubles throwing strikes. We at RAB preach patience. Middle relievers are middle relievers because they're not particularly good pitchers. If they were, they'd be starters, or at worst closers or set-up men. But they're not. We cannot expect too much of them. However, one thing that can be expected of them is to throw strikes. When they don't they get the team into precarious positions. This is what Veras and Edwar have done all season long. They performed admirably last year, but we know that reliever performance is volatile. After watching another maddeningly frustrating performances by these two last night, I have reached the breaking point. Enough with Veras, enough with Edwar. DFA the former, option the latter, activate Bruney, recall Robertson. The whole idea behind this bullpen construction was that the parts were interchangeable. If one guy sucked, he could be swapped for another. Well, we've seen enough suckage from Edwar and Veras to warrant such a switch. We can only hope that the Yankees brass is as fed up as the fans are.
On a Mo-less night and an evening before the Yankees get their setup man back, Edwar Ramirez could not get the job done. True, the homer to Span was a complete golf swing, but it still left the yard. And he still did go 3-0 on Mauer before eventually walking him. That forced Phil Coke into the game early to face Justin Morneau, who had homered twice off him in the series. Not exactly the position the Yanks wanted to be in. But Coke made Morneau look foolish, using the lefty-lefty matchup to his advantage, fooling Morneau into three feeble swings. Inning over. Just one more to go.
Despite this moment of heroism, Coke would battle through the ninth. He led off by walking Joe Crede — which takes some serious, serious work. As in, I have a hard time believing Coke didn't try to walk him. A pinch runner, wild pitch, and two groundouts later, the score was just 7-6. All of a sudden, that seventh-inning Tex homer loomed large — even larger after Coke walked Gomez, a guy who, like Crede, you have to try to walk. The guy was clearly a nervous wreck out there, as Girardi and then a Cervelli/Pena combination had to calm him down. In the end, Mike Redmond gave Coke the greatest gift a hitter can give a pitcher: swinging at balls out of the zone. Two in a row, according to Gameday, though I thought the one before those was questionable, too.
So the Yanks walked away with a win and their first series sweep of 2009*. All of the games were pretty tense at points, making each victory even sweeter. Most of the Yanks got in on the offensive barrage. Well, except Nick Swisher, but I kinda brought that up so I could note that he had a couple of nice looking hacks today. Hopefully that's a sign that he's coming out of his funk. Robinson Cano came out of his mini slump, going 2 for 4 with a double. Let's hope Swish follows in kind.
The Yanks have now won six in a row, and as if things could get better they've got their ace taking the hill tomorrow night. He'll square off against that troublesome Baltimore lineup, while the Yanks bats will get their first look at Brad Bergesen. Maybe they can reverse their recent trend of futility against mediocre rookies and give Bergesen the Scott Richmond treatment.
*Meh, I'm not counting the rain-shortened Oakland series.