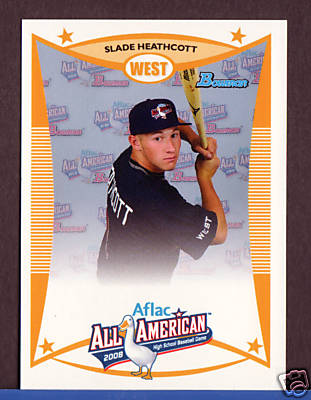 With their first pick in the 2009 MLB Draft, the Yankees selected CF Slade Heathcott out of Texas HS in Texarkana.
Scouting Report: Heathcott is an exceptional athlete and a physical specimen, which gives him a chance to develop five above-average or better tools. He has good bat speed and pop from the left side but needs to fix some mechanical issues in his swing to square up balls more consistently. Despite having ACL reconstruction surgery last November, Heathcott has very good speed which allows him steal bases and run down balls in the outfield. He has a strong arm, but needs to tighten up his routes to reach his full defensive potential. Heathcott can play all three outfield spots and is a legitimate center fielder. Committed to Louisiana State, Heathcott is considered signable. You can read more about him at MLB.com and ESPN (subsciption req'd).
Although there are no concerns about his intensity on the field, some teams have been scared off by character issues. Heathcott's father is in prison on drug charges and his mother is out of his life for similar reasons, which is an obvious red flag. He was also ruled academically ineligible for the playoffs last month.
Here is Heathcott's MLB Scouting Bureau video.
My Take: I like the pick. You can't complain about taking a high ceiling up-the-middle athlete in the first round, and Heathcott certainly has that kind of ability. The off-the-field issues are a concern, because with that kind of upbringing you do have to worry about the kid's ability to discern right from wrong, but I'm confident that the Yanks will do everything possible to help him transition to life in professional baseball.
Photo Credit: AutographsForSale.com