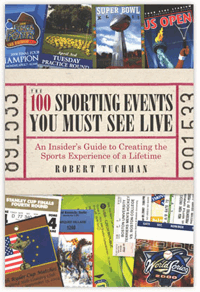 Over the years, I've seen my fair share of seminal sports events. I've seen countless Yankee/Red Sox games, a few World Series affairs, the All Star Game at Yankee Stadium and a pair of historic Hall of Fame Induction ceremonies. I've been to a Cubs game at Wrigley Field in 2001 that featured a late-inning Cubs comeback and a few games at Fenway as well.
Beyond baseball, I've been to the NBA All Star Game when the Garden hosted it in 1998. Michael Jordan scored 23 points and nabbed MVP honors. I've watched the marathoners jog by in the city on many a chilly November mornings. I've seen a few U.S. Open matches at Ashe Stadium and even a Harlem Globetrotters performance in the mid-1990s.
"That's great, Ben," you might be thinking, "but why are you telling us about this?" These events, you see, are all a part of a new book by Robert Tuchman called The 100 Sporting Events You Must See Live. The author, a New Yorker, is a sports travel guru, and he has produced a thorough accounting of the world's top sporting events. The book is more than just a list too. It features local details on each event: what to see, where to stay, what to say.
A fair warning though: The ticket listings feature only one ticket broker, and the travel packages for each listing all refer readings back to Tuchman's Premiere Corporate Events company, of which he is the president. Unfortunately, while any author can use his book for promotional purposes, a more thorough tome would include local travel agents and a variety of ticket sources. It is, though, easy to overlook that short-coming, and the list more than makes up for it.
For the baseball fans among us — or, you know, all of us — Tuchman's list is chock full of games to check out. The World Series clocks in at seven while a Yankee-Red Sox game at the Stadium is ninth on the list. The Cubs at Wrigley Field are 14, and the Hall of Fame Induction — truly a magical event — is 22. The All Star Game is 40th, and Japan's Koshien Baseball Tournament is 44. Even Fenway Park gets a mention at 55. It isn't that bad.
Tuchman's Top Ten events are an interesting melange of sports. The Masters earn the top spot followed by the World Cup and the Super Bowl (but good luck with that ticket). The Summer Olympics are fourth followed by an Army vs. Navy game, the NYC Marathon, the World Series, the Winter Olympics, a Yanks/Sox game and a UNC/Duke game at Cameron Indoor Stadium.
The full list is right here on Tuchman's website, and the author is trying to find someone who has seen 40 or more of these events live.
So, then, I ask RABers, as we wait for Sunday to dawn, what your favorite live sporting events are. Nothing beats the electric atmosphere at Yankee Stadium in October as the crisp fall air descends upon another post-season game, but those mid-summer Red Sox/Yankees contests are a close second.
To grab a copy of Tuchman's book and to support RAB at the same time, you can buy it here
. Shortcomings aside, it is as thorough a guide to the world's sporting events as you could find.