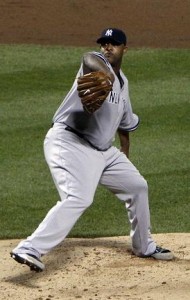 Over the weekend Tom Boorstein of SNY penned a piece about CC Sabathia's supposed dropoff, saying that he's pitching more like a good number two than the ace the Yankees are paying him to be. It's an interesting read and worth your time, far better than the usual drivel you'd expect to find on such a topic. Boorstein cites plenty of evidence that Sabathia's performance has taken a step back, but also notes that the Yanks were never going to see the CC Sabathia from last year.
One of the main points of the article is that Sabathia's walk rate has climbed while his strikeout rate has dropped this year. Over the last two seasons with Cleveland (not going to count his stats with the Brewers at all, different league all together) he struck out 8.22 batters and walked just 1.86 batters for every nine innings pitched. This year those totals have declined to 6.51 and 2.59, respectively, Sabathia's worst totals in nearly five years. I'm sure some will point to the difference between the AL East and pretty much everyone else, but last year non-Cleveland AL Central clubs hit .270-.332-.424, and this year non-Yankee AL East teams are hitting .266-.338-.433, a difference of just 15 OPS points.
Other than the strikeout and walk rates, the only other significant statistical difference between Sabathia now and Sabathia as an Indian is the percentage of first pitch strikes he's throwing. Last year he threw 64.3% first pitch strikes with Cleveland, but this year it's just 58.2%, his lowest mark since 2004 (57.1%). Overall, CC's putting almost exactly the same percentage of pitches in the strike zone and hitters are making almost exactly the same amount of contact off of him that they had over the first eight years of his career.
The most important thing is that Sabathia's stuff is perfectly fine. His fastball velocity is still up there and is actually a tick higher than it has been the last few years. According to the Pitch F/X data he's getting the same kind of movement on his pitches and throwing them in roughly the same proportions, so there should be no pitch selection issues. Hell, CC's got a 3.61 FIP this year, and last year with the Indians it was 3.41. Steve, aka The Artist, notes that Sabathia has typically been better in the second half, something that should scare the rest of the American League.
Remember what we're doing here. We're trying to figure out why Sabathia has only been merely very, very good this year instead of amazingly great like he was in 2007 and 2008. He's still one of the very best starters in the game and projects to be worth approximately 5.5 wins over the full season. Last year only eight pitchers in the game were that valuable, and it translates to about $24.7M in production. Would I like to see a few more strikeouts out of Sabathia? Sure, but that's like picking on the Mona Lisa because of her smile.
Photo Credit: Flickr user zaner2