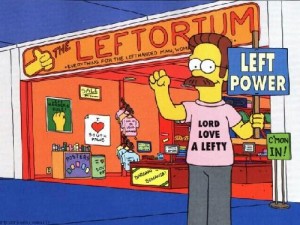 In two hours or so, the Yankees will face rookie southpaw Rickey Romero as they finish up their midweek three game series against the Jays. Romero is enjoying a brilliant first year in the bigs, placing at or near the top in just about every significant pitching statistic among rookies. He pitched into the seventh inning against the Yanks in his only other start against them this year, walking away with a win.
Typically you'll see managers try to gain an advantage against the good lefthanders by stacking the lineup with righties, and we all know Joe Girardi can get a little platoon crazy at times. Today is a great example of when he should look at the matchups and fill his lineup card accordingly, this time by stacking lefties. That's right, lefties.
"But Mike, I thought you're supposed to load the lineup with right-handed hitters when you face a good left hander," you say. In most cases, that's probably a good idea, but not this time. Why, you ask? Well, that's because Romero's change-up is his bread and butter, his put away pitch. As you probably already know, pitchers use off-speed pitches such as change-ups and splitters to neutralize batters of the opposite hand because those pitches tend to fade down and away from those batters. Romero has thrown his change 22.8% of the time this year, by far the most of his secondary pitches. FanGraphs measures the pitch's value at 2.16 runs above average per 100 pitches, which makes it the seventh best change-up in the American League, not far behind three guys named Felix Hernandez, Roy Halladay, and Mark Buehrle. The numbers bear this out as well, because Romero is actually doing a much better job containing righties (.250-.338-.375) than lefties (.299-.338-.522) this year. His minor league numbers also show a reverse platoon split.
Now remember, it takes two to tango. Romero being less effective against lefties than righties is only half the battle; we need to make sure that Yankee hitters can take advantage of this. Hideki Matsui – who sat when the Yanks faced Romero on July 6th – is hitting southpaws to the tune of .258-.343-.618, which is 137 OPS points better than his line against righties. Eric Hinske – who took Romero deep on July 6th – is rocking a .345-.444-.621 line against lefties. Robbie Cano (who I wouldn't expect to sit anyway, but you never know) is .310-.341-.548 against lefties. The one lefty batter you'd consider sitting is Johnny Damon, because his OPS against lefties is .737, far removed from his Herculean .956 OPS vs righties.
So let' see, if I was filling out the lineup card, I'd run this nine-some out there this afternoon:
Jeter, SS
Swisher, LF
Teixeira, 1B
A-Rod, 3B
Matsui, DH
Cano, 2B
Hinske, RF
Melky, CF
Molina, C
Jorge Posada needs to sit because it's a day game after a night game with a cross country flight to Seattle coming up this evening. At 38years old with a 5.5 game lead in the division, there's no reason to push him. So, you end up with three righties in there (two of whom are world class hitters you'd never consider platooning), three lefties (all in a row and all of whom can mash lefties), and three switch hitters who have at least an .844 OPS against southpaws this year. Add it all up, and you have a lineup that is hitting a combined…wait for it… .310-.399-.537 against lefties in nearly 1,000 plate appearances (986, to be exact) this year. That's a .936 OPS. It's like having an entire lineup of Adrian Gonzalezes.
Not only are you putting best possible lineup out there given platoon matchups, you're also taking away one of Romero's best weapons for a nice little stretch of the lineup. If you want to get really crazy, you could ask the switch hitters to bat lefthanded against Romero, but I would advise against that. First off, all three guys have good enough numbers against lefties as it is. Second, and more importantly, when's the last time these guys faced a pitcher throwing from the same side of the plate? Years and years ago. There's a comfort issue there.
It's not often that you can gain an advantage by stacking the lineup with same-sided hitters as the pitcher, but here's a scenario where it's not such a bad idea. It might be a little too unconventional for Girardi's taste, but we can only hope.
Note: Today's lineup came out after I finished writing this post. Almost all the same names, just in a different order than my lineup above. I'm surprised Posada's playing, but he balances out Damon. Just for the sake of completeness, this lineup is hitting .303-.392-.527 against southpaws this year (1,064 plate appearances). So they're giving up a whopping 17 points of OPS compared to my lineup. Instead of a lineup of Adrians Gonzalezes, they have a lineup of Todd Heltons.