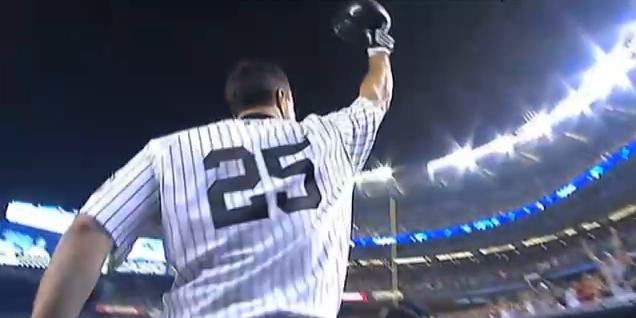 The Yankees had just tied the game when Johnny Damon sent a ball into the Yankees bullpen, and the new Stadium was pumped. While Victor Martinez had given the Red Sox the lead with a two-run jack in the prior half inning, the Bombers, behind Damon, quickly rebounded, and first year pinstriper Mark Teixeira stepped to the plate against the untouchable Dan Bard. The first pitch was a breaking ball that dropped in for strike one, but Tex wouldn't let Bard get away with that again. He threw the same exact pitch and Tex hit a towering blast that landed deep into the right field stands. Order had been restored, and Mark Teixeira once again reminded all of us how lucky we are to have him on the Yankees.
Remember, Tex's Yankee career didn't start out so well. On the morning of May 13th he was hitting just .191-.328-.418, a far cry from the .308-.410-.552 he hit last season. Since then though, Tex has been a man on a mission. His .320-.403-.614 batting line is a better reflection of his talents, while his 29 homers lead the American League. He's also second in the league with 83 RBI and tied with Adam Lind for the lead with 59 XBH. Teixeira has become a legitimate MVP candidate thanks to his gaudy stats and plethora of big hits.
Even though he started the year struggling at the plate, the one thing that never slumped was Tex's defense. He's been an All-World defender at first, whether he is ranging to his right to snare balls eying the outfield, leaping to grab balls hit over a mere mortals head, or scooping up throws from his fellow infielders. After watching Jason Giambi trip over his own feet for the last seven years, it's been quite refreshing to watch an adept defender.
I was of the belief that the Yankees weren't going to be able to sign Teixeira in the off-season. After dropping more than $250M in commitments to CC Sabathia and AJ Burnett, I figured there wasn't enough left in the piggy bank for Tex and that the season would start with Nick Swisher as the everyday first baseman. But the Steinbrenners found that extra $180M between the couch cushions and brought Tex home to the Bronx. And I couldn't be any happier.