There's a new member of the New York Yankees, so let's introduce him. Before yesterday's game, the Yankees added OF Freddy Guzman to the 40-man roster and summoned him to the majors. The 28-year-old switch-hitter hadn't appeared in a major league game since September 30, 2007, before he pinch ran for Jorge Posada in the eighth inning last night. Now, according to the Yankees, he's in consideration for a postseason roster spot.
It's been a long journey for Guzman, not just throughout his nine-year pro career, but also this season alone. The Bronx is his fifth stop in 2009 after stints with AAA teams in four organizations. He's stayed employed through the years because of his speed, which, to paraphrase Mike, can be rated as "really fast" on the 20-80 scale. He got on base at a decent clip in the minors for a guy with no pop, but he's not expected to maintain that in the majors. If he was, another team would have given him a longer look.
(I also found out, just after publishing this, that Guzman had at one point falsified his identification. He was previously known as Pedro De Los Santos, and had listed his birth date as August 8, 1983. His actual birthday is January 20, 1981 — the day Reagan was inaugurated.)
The Padres signed Guzman as an undrafted free agent in 2000, but apparently held him back from playing that year. The first recorded stats I see for him are with short-season Idaho Falls, San Diego's rookie-level team, in 2001. He performed quite well in a small sample at that level, putting up a .866 OPS while playing against guys mostly younger than him. It's tough to project under those circumstances, but success is success. For him to fail at that level might have derailed his career early.
Guzman hit three levels in 2002, starting at low-A ball and moving up to short-season and advanced-A. He posted a .341 OBP with low-A, but markedly dropped off as he faced tougher competition. Still, it was enough to earn him the No. 3 spot on San Diego's prospect list, according to Baseball America. He started 2004 off with a bang, posting a .375 OBP at advanced-A and earning himself a promotion to AA. There he tallied a .368 OBP in 205 plate appearances. It was enough for the Padres to give him a shot, and he made his major league debut on August 17.
Things didn't go so well for Guzman, who saw less and less playing time in September, though he did get two hits in each of the Padres final two games. Unfortunately, it would be more than a year until Guzman would play in a game that counted, at any level. He suffered an elbow injury which kept him out for the entire 2005 season.
After success in his brief return, to the tune of a .348 OBP, the Padres traded him to the Rangers in what amounted to a nothing deal. Cesar Rojas went with him, and the Padres received John Hudgins and Vince Sinisi in return. None of those players have been of any consequence. Guzman took to his new environment, hitting .282/.375/.345 Oklahoma, Texas's AAA affiliate in the hitter-friendly Pacific Coast League. He was rewarded with eight plate appearances at the end of the season for the Rangers.
Another decent season followed in Oklahoma, .269/.358/.363. The Rangers again rewarded him with a call-up, this time involving six plate appearances. At this point it was clear what kind of production you could expect from Guzman: not much. He had only 98 major league plate appearances, but Guzman's type has floated around pro baseball for ages. He has seductive speed, but not enough power. Without power he has trouble drawing walks at the major league level, which depress his OBP. Guys with speed don't do much good unless they're getting on base.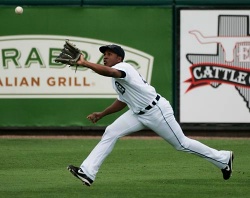 In December of 2007, the Rangers dished Guzman to the Tigers for 1B Chris Shelton, who is most famous for hitting 10 home runs in April 2005 and doing nothing much since. After deciding he'd not make the Opening Day roster, the Tigers placed him on outright waivers, but no one claimed him. The Tigers put him in AA. After tearing up Erie of the Eastern League (.281/.362/.446), Detroit moved him up to AAA Toldeo, where he fell back into line with expectations, .270/.329/.378.
After the season Guzman became a minor league free agent and signed with the Mariners. His 2009 journey began with Tacoma of the PCL, but after disastrous results — .214/.244/.310 in 45 PA — the Mariners released him in early May. The Red Sox snapped him up later that month, but the results were similar with AAA Pawtucket. From there was onto Norfolk, Baltimore's AAA team, where he experienced even worse results. The Orioles, obviously having no use for the outfielder, dished him to the Yanks on August 31 for cash and a player to be named later.
Strangely, after releasing Guzman, the Red Sox acquired Joey Gathright. The latter might have more major league experience than Guzman, but it's difficult to discern a difference between the two speedsters. Yet it's their speed, and their speed alone, which might earn them postseason roster spots. That's what Joe Girardi said yesterday. The Yankees, needing only 11 pitchers on the postseason roster (probably using 10 tops), could add a second speed threat to the bench with their extra spot.
A speed threat on the bench is a luxury in October, and one the Yankees can certainly afford. But can they spare two spots to speedsters? It seems as though Melky Cabrera is the starting center fielder, with Gardner coming in every once in a while, rather than any kind of set platoon. He's one guy who can pinch run in close and late situations. Do the Yankees need another?
Right now, the odds are against Guzman making the roster, but things can change between now and October 7. If Melky starts to falter and Gardner starts more in center, perhaps the Yankees will think it worthy to have a speeders for whom they can pick spots. If Gardner's starting, the Yanks obviously can't use him to pinch run for Posada or Matsui in a difficult spot. The presence of Guzman would afford them that luxury. I guess it will come down to how the team plays down the stretch, and how the Yankees think they can best use their extra position player.
Photo 1 credit: Lauren Long / The Post-Standard
Photo 2 credit: Robin Buckson / The Detroit News