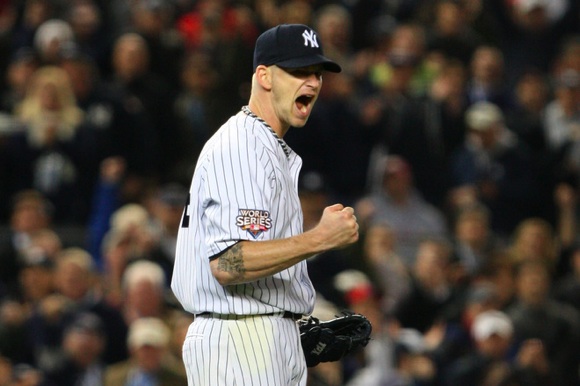 Welcome to the World Series, Good A.J.
Heading into Thursday's Game 2, we didn't quite know what game to expect. The Yanks had A.J. Burnett, the definition of baseball inconsistency on the mound, and the Phillies were countering with Pedro Martinez, a relic of another age who has reinvented himself Mike Mussina-style into a off-speed demon. It could have been a slugfest; it could have been a pitcher's duel.
In compelling fashion, we enjoyed the latter. The Yankees saw Good A.J. — an outing Derek Jeter called "the best I've seen all year" — and beat Pedro and the Phillies 3-1 to tie up the World Series. The teams now head 99 miles south for three weekend games in the City of Brotherly Love.
In a word, Burnett was masterful tonight. He flashed his power fastball and devastating curve balls and sliders for seven innings. He allowed just a single run on four hits and only two walks while striking out nine. "Today was one of those days where he had more than extra life in his fastball, and the hook was right there," Jose Molina, Burnett's own catcher, said.
Burnett, though, had the final word. "It was," he said, "the funnest I've ever had on the baseball field."
Burnett set the stage early for pitching performance. He started the game out with a 95-mph first-pitch strike to Jimmy Rollins and never looked back. Burnett proceeded to throw a called first-pitch strike to the nine of the first ten Phillies he faced and didn't throw a first-pitch ball until Chase Utley came up in the third, 12 batters into the game. "After last night, I just wanted to come out and set the tone early," he said. "My key was strike one tonight. I threw a lot of first pitch strikes and that allowed me to expand the zone."
The Yanks, though, found themselves on the wrong end of a 1-0 game early. With two outs, Burnett allowed a bloop double to Raul Ibañez that hit the chalk. A ground ball off the bat of Matt Stairs skipped off of A-Rod's glove for an RBI single, and Yankee fans groaned. Little did they know it would be the only run the Phillies would plate all night.
On the other side, Pedro Martinez kept the Yankees guessing early and then late into the night. Yet, his six innings of six-hit, two-run ball wasn't enough. Despite the eight strike outs, it wasn't enough. With chants of "Who's Your Daddy?" coming out from Yankee Stadium's every nook, the Yanks used two solo home runs and a late rally to top Pedro. "I did everything I could to beat those guys," he said.
The Yanks got on the board in the fourth when Mark Teixeira lifted an 83-mph change-up into the Yankee bullpen. It was Teixeira's first World Series hit and his first home run since the end of Game 2 ALDS. "It was a 1-0 count, and I saw a pitch up in the zone, and I just let it fly," he said.
Two innings later, Hideki Matsui went golfing and found a pitch he could drive. This one went 320 feet into the right field bleachers, and the Yanks had their first World Series lead since the first inning of Game 5 of the 2003 World Series.
In the 7th, umpire controversy struck. With Pedro still in the game, Jerry Hairston lined a single into right, and Melky Cabrera blooped one in front of Jayson Werth. Pinch hitter Jorge Posada singled home pinch runner Brett Gardner, and the Yanks were primed for more. But Derek Jeter, bunting on his own, struck out when his two-strike effort rolled foul, and then Johnny Damon hit a sinker liner toward first. Ryan Howard fielded the ball and threw to second, seemingly for a double play attempt, but the umpires ruled it an out in the air. Posada was doubled off the threat ended. Replays seemed to show that Howard short-hopped the ball, and the Yanks wuz robbed.
With the Yanks clinging to a two-run lead, Joe Girardi handed the ball over to Mariano Rivera for a two-inning save. He got Carlos Ruiz out but then ran into trouble as Jimmy Rollins walked and Shane Victorino singled. Chase Utley, though, bounced a 3-2 pitch to Robinson Cano. Brian Gorman called Utley out on the relay throw, and even though replays showed Utley safe, the Yanks were out of the inning.
In the 9th, Mariano allowed a two-out double to Raul Ibañez but Matt Stairs struck out. The Yanks nailed down a World Series win, and it felt good. "It was just business as usual," Girardi said, later adding, I think it was extremely important [to even the series]. We've playing a very good baseball team, and you don't want to spot them two runs when it's a best of seven."
The Yanks and Phillies head to Philadelphia tied. Andy Pettitte will face Cole Hamels on Saturday night, and we've got ourselves a World Series.
Above: An emphatic A.J. pumps his fist in the 7th inning. (Photo courtesy of Yahoo! Sports)