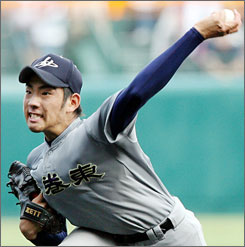 Yusei Kikuchi is The Next Big Thing to come out of Japan. An 18-year-old prep star, Kikuchi could join Junichi Tazawa as a Japanese player who skips the Nippon Professional Baseball league to come straight to the Majors, and although the Yankees are going to be preoccupied with the Angels over the next 10 days, the team, according to reports, is going to meet with Kikuchi next week.
Via MLBTR, NPB Tracker reports on Kikuchi's recruitment schedule. This week, he will meet with Japanese teams as his hometown league attempts to convince him not to jump the puddle for the Majors. After meeting with the NPB reps, Kikuchi will meet with the Giants, Mets, Dodgers, Yankees, Rangers, Mariners and Indians.
If Kikuchi leaves Japan, he will be the second big-name pitcher to head straight to the States in two years, and the NPB could be facing a severe young talent drain as more kids look to Major League Baseball for a more international stage and a quicker payday. Patrick Newman at NBP Tracker wonders if the Nippon leagues will look to collude with Kikuchi to ensure that he is drafted by the team of his choice and stays in Japan.
With Kikuchi coverage ramping up, Newman also published a scouting report on the young left-hander. He seems to be a smart kid with a good head on his shoulders, and he throws between 87-96 mph. Generally, his fastball sits low in the zone at around 90. Keep in mind that he is also just 18 and will probably add a bit of velocity as he fills out.
It will be interesting to see how the Kikuchi sweepstakes shake down. As young undrafted kids look across the Pacific, international baseball could be gearing up for a sea change, and the Majors may soon enjoy a stream of young talent from Japan. After the Yanks opted against going after Tazawa last year on the grounds of honoring the NPB draft, it's intriguing to see them in the mix on Kikuchi. Perhaps they think higher of him than they did of Tazawa.
Feel free to use this as a discussion on the merits of international poaching of young players or use it as your regularly scheduled open thread. Oh, and today is Joe Girardi's birthday. So a happy 45th to the Yanks' skipper. You know the drill; play nice.