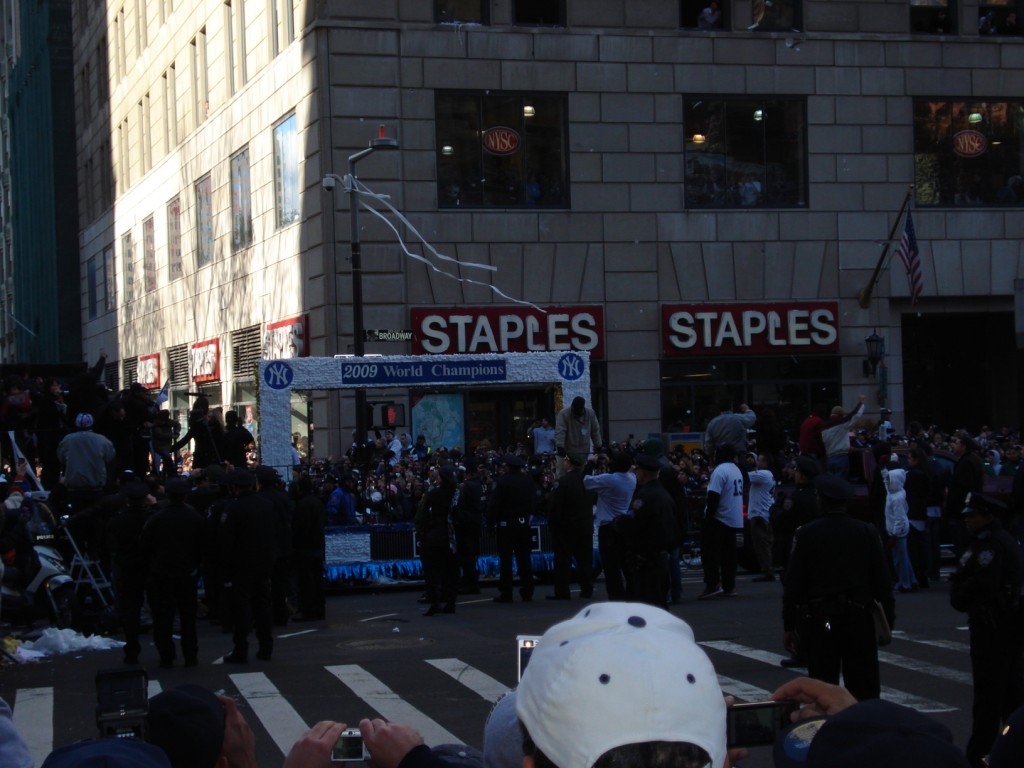 You can check out of all my pictures here. Apologies in advance for the quality, between the gazillions of people pushing and leaning on me nonstop and my crappy camera, most of them aren't great.
Joe, myself, and a few readers set up shop at the corner of Ann and Park, where we got a good view of people throwing stuff out of nearby buildings. Spike Lee was walking around taking pictures, and people were climbing on everything, at least until the cops got to them.
You couldn't miss CC Sabathia, while Melky was stylin' with his hat. Jorge Posada and Derek Jeter were on the same float (Posada in the back, Jeter in the front), but Mariano Rivera got his own float to fittingly close out the parade (he's the one with the scarf). None of us managed to see A-Rod (apparently he was on Jay-Z's float, and why the hell was Jay-Z part of the parade anyway?), Phil Hughes, David Robertson, or Joe Girardi, and I think we counted three different Nick Swishers and two different AJ Burnetts. From where we were, it was tough to tell the guys apart.
If you have any pictures of your own, feel free to link to them in the comments. Otherwise, use this thread to talk about whatever you want. It's Friday, so go ahead and be as vicious as can be to each other.