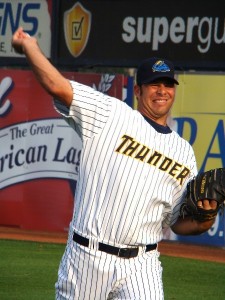 Nothing gets me excited quite like the Rule 5 Draft, one of baseball's more underappreciated sources of talent. If you're unfamiliar with how the R5D works, Wikipedia does a pretty good job of explaining it. Basically, it's a way to help players stuck in the minors advance their careers. If they've been playing pro ball for at least four years (three for college draftees) and are not on the 40-man roster, they're eligible to be drafted. Their new team has to keep them on the 25-man Major League roster all season, otherwise the player's old team can take him back if they want. That's a really quick and dirty explanation, but it'll do.
The actual draft is held on the final day of the Winter Meetings in early December. This year it's on the 10th. Even though the draft isn't for another few weeks, rosters do have to be set fairly soon. I don't know the exact date, but last year it was November 20th, so it can't be too far away.
For the most part, teams will use the R5D almost like a temp agency; a means to find cheap labor. They won't (or shouldn't) go in looking for a franchise cornerstone, because they aren't going to get it. The best young players always get protected for obvious reasons. Instead, teams will look for that second lefty reliever, or a backup catcher, or a spare outfielder, or a long reliever, stuff like that. NL teams might look for a veteran hitter to bring off the bench, someone they can hide on their roster all season. Last year, the Yanks lost four players in Major League portion of the R5D, plus two more in the Triple-A phase.
This year, I count no fewer than 37 players in the Yanks' organization that are R5D eligible. Chances are it's more, but it can be tough to figure out if some of the international signees are eligible. Now 37 seems like a big number, and it is, but relax, most of them are organizational players that have no business being protected. That said, the Yanks still have some tough decisions to make regarding who'll protect and who they'll leave exposed.
Before we get into who they should and shouldn't protect, we first need to figure out what the 40-man roster situation looks like. As of today, there are 38 players on the 40-man. Brian Cashman has said he plans on "taking it slow" this offseason, so we can assume the Yanks will let all of their free agents hit the market. That frees up seven spots (Damon, Hairston, Hinske, Matsui, Molina, Nady, Pettitte), and the Yanks could easily free up another one by cutting ties with Shelley Duncan the same way they did with Freddy Guzman and Josh Towers.
It looks like Brian Bruney will be back next year (grrr), but not Chien-Ming Wang. That's another open spot. Jon Albaladejo, Chris Garcia, and Edwar Ramirez all have options left, but I bet at least one (Edwar) goes because they're easily replaceable. That's another spot. Juan Miranda qualifies for a fourth option, and he's worth keeping around.   All told, that would be eleven open spots on the 40-man, but remember that six of those spots will have to be used on replacements for Damon, Hairston, Hinske, Matsui, and Pettitte (Frankie Cervelli replaces Molina, and he's already on the 40-man), plus assume one more spot for fungibility. That would give the Yanks four spots to use for protecting R5D eligible players.
Three of those four spots unquestionably will be used to protect Austin Jackson, Ivan Nova, and Kevin Russo. Jackson is the organization's top outfield prospect, and if the Nationals didn't take him with the first pick of the R5D, the Pirates would gobble him up with the second. Nova was selected but returned by the Padres last year, and the Yanks wouldn't be so lucky again after his breakout season. Russo is capable of playing five (probably six) positions, and wOBA'd .371 in Triple-A next year. That's a guy you keep.
So that leaves one more spot, and about eight players worthy of being considered for protection. Let's break 'em down one by one after the jump.
Reegie Corona, IF, 23
The Mariners took Corona in the R5D last year, but they returned him at the end of Spring Training after he failed to win the backup infielder's spot. A slick fielding middle infielder, Corona flat out can't hit (.262-.338-.342 career minor league line), so his value comes entirely from his ability to make all the plays at three infield positions. The Yankees already have Ramiro Pena for that, so Corona goes unprotected. He may or may not get selected again, I wouldn't be surprised either way.
Colin Curtis, OF, 24
A classic 'tweener, Curtis does several things well but nothing great. He's not much of a hitter (.264-.364-.375 career line, and his performance has gotten progressively worse as he's climbed the ladder), and nothing special on defense either. It's hard to figure out where he fits in the Yankee puzzle both long and short term, but the team has enough outfield depth ahead of him that they can leave him unprotected. I would guess he goes undrafted.
Grant Duff, RHP, 26
Always a guy with premium arm strength, Duff didn't really garner much attention until this year, when he moved to the bullpen full time. Reports during the season had him touching 99, though PitchFX has him topping out around 96 in the Arizona Fall League. That's still well above average velocity, and he backs it up with a hard slider. Despite the gas, Duff's strikeout numbers aren't eye popping (7.45 K/9 the last two years) and his walk rate isn't great either (3.64 BB/9 in the same time frame). He'll be 27 in a month, but he's worth considering for that final spot.
Zach Kroenke, LHP, 25
Like Corona, Kroenke got Rule 5'd (by the Marlins) last year only to be returned in Spring Training. He enjoyed the best season of his career in 2009, though his peripherals in Triple-A weren't anything to get excited about (6.8 K/9, 3.7 BB/9). Kroenke works with a high-80's fastball and an average slider, but he didn't have much of a platoon split. Given that there's four lefty relievers (Damaso Marte, Phil Coke, Mike Dunn, Wilkins DeLaRosa) already on the 40-man, Kroenke will be left unprotected and presumably gobbled up yet again in the R5D.
Eduardo Nunez, SS, 22
After four years of forgettable play, Nunez finally broke through in 2009, posting a .322-.349-.433 batting line in Double-A. His best tool is his arm, though the rest of his defense is nothing to write home about. Like Corona, the Yankees don't have a need for a guy like Nunez with Ramiro Pena around. Someone might gamble and draft Nunez, but there's virtually no chance of him making through a full season on the 25-man roster, so he'll be back soon enough.
Romulo Sanchez, RHP, 25
Picked up in the middle of the season in exchange for Eric Hacker, the big righty excelled in an unfamiliar role for Triple-A Scranton after the trade: as a starter. He's one of, if not the hardest thrower in the system, and at 6′-6″, 260 lbs, he's an intimidating presence on the mound. When he commands his curve, he can be unhittable. The problem is that his control wavers, and he can pile up big walk totals in addition to his big strikeout totals. Like Duff, he's definitely worth considering for the final 40-man spot.
Josh Schmidt, RHP, 27
Schmidt had a phenomenal season in Double-A (2.58 FIP, 10.3 K/9) this year, but he's a sidearming sinker-slider pitcher. Those guys are a dime a dozen, and every organization has about half-a-dozen of their own guys just like Schmidt. No need to protect him, and on the odd chance that he does get picked, it's no big loss.
Kanekoa Texeira, RHP, 23
The forgotten piece in the Nick Swisher deal, Texeira had a strong, but unspectacular season with Double-A Trenton in 2009. Like Schmidt, he's a sinker-slider guy, though he throws from a slightly higher slot than pure sidearm. If left unprotected, Texeira's a real good bet to get picked, but the Yanks have better options for that final 40-man spot. Such is the cost of having a lot of Major League relief options.
Kevin Whelan, RHP, 25
The lone member of the Gary Sheffield trade not to make it too the majors (yet), Whelan is fighting a perpetual battle against below-average control. His mid-90's fastball-splitter combo is devastating (153 hits and 337 strikeouts in 266 career innings), but he often beats himself with walks (5.4 BB/9) and is prone to hitting the DL. Along with Duff and Sanchez, Whelan is worth considering for that final 40-man spot.
Click here if you want to see my unofficial list of R5D eligible players. As you can see, most of the guys aren't even worth mentioning, though I'm sure one or two will get popped in the minor league portion of the draft. It's also worth noting that both Jason Hirsh and Humberto Sanchez – two guys that might have been protected in a normal year – can become six year free agents, but I can't see the team adding either player to the 40-man to prevent them from walking. There's better ways to use a 40-man spot, and besides, they could always re-sign them before they even hit the market.
Based on what we talked about above, the three guys I'm considering for that last roster spot are Duff, Sanchez, and Whelan. When sorting out the 40-man for R5D purposes last year, GM Brian Cashman noted that sometimes the best way to keep a player is to leave him unprotected, because if the player does get taken, it's unlikely they'll stick on the 25-man roster all season and thus will end up back with the Yanks. Using that logic, Whelan can get left off. He's the most likely to run into extreme walk trouble at some point during the season, which could easily land him back in pinstripes.
Eliminating Whelan, now we're left picking between Duff and Sanchez. Both sport premium velocity, but Sanchez a) is younger, b) has a longer track record, c) was working as a starter as recently as two months ago, and d) has prior big league experience (31.1 IP with the Pirates). Duff is a guy that didn't have his first taste of success until last season, and he's going to be 27 next month. For the most part, he is what he is. I'd add Sanchez to the 40-man for the aforementioned reasons, but know that regardless of who they protect, the other guy will almost certainly be selected.
Having to make tough decisions about who to the protect for the R5D and who to leave exposed can be painful, but in a way it's good because that means the team has good depth and plenty of desirable pieces. Of course, the Yankees could still open some more spots by unloading some dead weight (coughBruneycough), easing some of the pain.
Photo Credit: Mike Ashmore