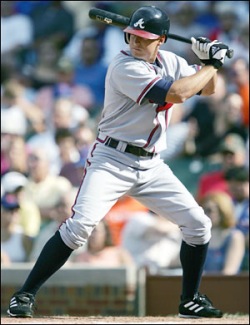 If the 2010 season began today, Melky Cabrera would be the Yankees starting left fielder. From an offensive standpoint, that's not ideal. While Melky improved in 2009 after below average 2007 and 2008 seasons, he was just a league average hitter. Of all American League outfielders with at least 500 plate appearances, Melky's wOBA ranked above just four: Ryan Sweeney, Vernon Wells, B.J. Upton, and Alex Rios. His defense, average in center field, might add a few runs in left, but it's doubtful that would bridge the gap. The Yankees need to remain focused on adding a left fielder.
Johnny Damon appears the team's top target, but recent stories indicate that the two parties remain far apart. In fact, Damon says that the team hasn't made an offer yet and he hasn't made his desires known to them. That hasn't stopped Scott Boras, of course, from making outrageous demands on behalf of his client. If the Yankees don't offer at least three years at at least $13 million, he says, they shouldn't even bother making one. That leaves the Yankees still searching for left fielders. While I think the two parties will reconcile soon enough, it's always fun to explore other options.
We've been over most of the free agent options, but on Saturday night we got a new wave. Teams decided to not tender contracts to some of their arbitration-eligible players, making them free agents. Among the new crop is Kelly Johnson, former Braves second baseman and left fielder. One of the Braves weaknesses last year was their outfield, so it seems odd to consider one of their players who could have filled that slot. Still, teams do make mistakes. Perhaps Johnson could slide back to left and help the Yankees.
Any team that signs Johnson gambles that he'll return to his 2007 form, when he hit .276/.375/.457 with 16 home runs. Those numbers would play well in left field for almost any team, but there's no guarantee that Johnson reaches that mark. His numbers have declined for the past two years, his OBP dipping to .349 in 2008 and then .303 in 2009. In 2009 this was due to a sharply declining walk rate. In 2009 he picked up the walk rate a little, but his BABIP and batting average took a huge hit, dropping to a .224 average as he hit .249 on balls in play.
As with Curtis Granderson, it appears that Johnson's BABIP numbers in 2009 were mostly due to an increased fly ball percentage, 43.1 percent, up from 36.5 percent in 2008. That came at the expense of line drives. 24.7 percent in 2008 and17.9 percent in 2009. The increased fly balls and decreased line drives, combined with a little bad luck, can easily lead to a terrible season. The question for the Yankees is of whether Johnson can recover.
Another issue which held Johnson back in 2009 was his right wrist. After missing time with bilateral leg cramps in late June, he hit the DL in early July with wrist tendinitis. He returned on July 23, and for the rest of the season hit .261/.358/.493, though it was in just 83 plate appearances. By then he'd lost his starting job, and the whispers of a non-tender began to circle. The right wrist for a lefty is the power wrist, and a resurgence of power, even in a short sample, is good news for Johnson.
The Braves' payroll situation further complicates the matter. They've hovered around $90 to $100 million over the past few years, and are over $80 million now before their arbitration players and any other additions. Johnson earned nearly $3 million in 2009, and that certainly factored into the team's decision to non-tender him. They can't afford to pay a player $3 to $4 million if he's going to produce like Johnson did in 2009. In other words, they can't afford to take the gamble, but another team could, especially because they won't have to pay him anything close to his 2009 salary.
Chances are the Yankees won't show much interest in Johnson. He's a second baseman who has limited experience in left field, and who also had Tommy John surgery in 2006. If he rebounds to his 2008 level, he's hardly an upgrade over Melky Cabrera. Only if he recovers to his 2007 form will he provide a team value in left field. Unless other teams aren't interested and he's forced to sign a minor league deal, I don't think the Yankees move on Johnson. Still, his circumstances make him an intriguing option. I wouldn't be surprised to see a team grab him to play second base and get rewarded with an .800 OPS season.