"I will continue to look at any remaining piece, but it won't be a big piece" – Brian Cashman on the left field situation.
There will be no Holliday under the Christmas tree. There is no Bay in the Bronx. Damon's days in pinstripes have expired. So what, then, do the Yankees plan to do with left field? They currently have Brett Gardner penciled in there, and while some people are bullish on him, I think the Yankees would at least like to have a contingency plan. After all, not only is Gardner the top left fielder right now, but the fourth outfielder is Rule 5 pick Jamie Hoffman. That doesn't seem like an ideal situation heading into the 2010 season.
Given the team's current composition, and given the budget constraints the team faces, it appears a second-tier option will fit best. We've heard a few of those names bandied about lately: Mark DeRosa, Marlon Byrd, Xavier Nady. Each has his ups and downs, but when considering the Yankees' situation, Nady fits the best. He's a gamble, of course, but at this point his demands shouldn't exceed what the Yankees are willing to spend. Taking a flier on his health could reap big rewards for the Yankees' outfield.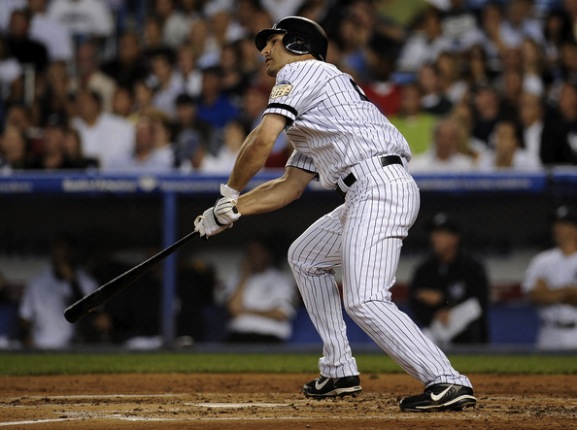 The concern with Nady is his twice surgically repaired right elbow. He underwent the second procedure in early July, after first having it in 2001. The success rate for second-time Tommy John patients isn't high, but that doesn't tell the whole story. Most players who undergo the procedure are pitchers, who need their arms a bit more frequently than outfielders. Nady's arm might be weakened by the second procedure, but maybe not all is lost. If his medical reports show progress, perhaps the Yankees can use him as a 4th outfielder and contingency plan.
Under the best case scenario, Nady works his way into a regular role, much like the team expected of him in 2009. He's rated below average by UZR, which is a concern, but he's played so many positions that it's tough to get a good sampling on him. His bat, however, can make up for that. He almost certainly won't hit like he did in Pittsburgh in 2008, but if he can hammer out a low .800s OPS, he'll be a valuable asset on offense.
The worst case scenario puts the Yankees back to where they are right now, only without the budget to acquire another outfielder. That's the main reason why I think the Yankees might stay away from Nady. If they're bullish on Gardner, then they're probably seeking someone who can fill in for him in case he gets off to another slow start, as in 2009. They might want to go with a more reliable option, rather than another gamble. But given the budget constraints and available talent, they might not have that luxury.
If the recent reports are true and the Giants really have offered Mark DeRosa $12 million over two years, the Yankees are likely out. That limits their free agent options to Byrd and Nady. By the numbers it appears Byrd might be a fit. In his last three seasons, with the Rangers, he's posted wOBAs of .350, .370, and .345, all above average marks. His ISO has risen in each of those years as well. Yet I doubt he'll replicate those numbers outside of Rangers Ballpark, and especially at Yankee Stadium, which does suppress righty power.
The last question regarding Nady is of whether he'll sign a one-year deal for $4 million or less. Scott Boras represents him, and will probably seek more guaranteed money. But will any teams want to take that kind of gamble? Considering the lack of interest in three higher-profile corner outfielders — Matt Holliday, Jason Bay, and Johnny Damon — perhaps Nady ends up taking a small money, one-year deal to try and increase his value. Again, with Gardner currently penciled into left field, he has to figure he'll get every shot to earn playing time.
If the Yankees can get him for under $4 million, they should give Nady a shot. It's a gamble, sure, but there's enough upside to make it worth the risk. That is, unless there's something we don't know about his medical report that has teams a bit reluctant to add him, even as a contingency plan.