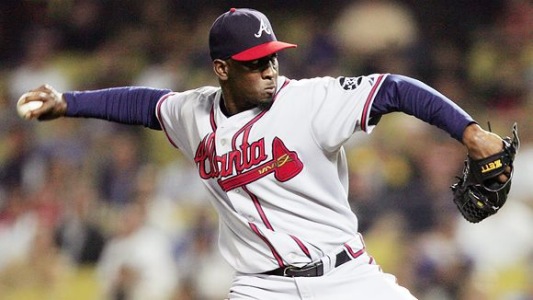 During their organizational meetings, the Yankees will likely discuss all free agent pitchers and left fielders. Some will make more sense than others, but the Yanks will discard most of the names as unrealistic for any number of reasons. One name I thought would make the scrap heap is Rafael Soriano. He's probably the most attractive free agent relief pitcher, and adding him as Mariano Rivera's setup man would help the bullpen. There are other factors, however, that make Soriano less attractive to the Yankees.
In the last line of his latest article, George King notes that Soriano's arm "has seduced some Yankee scouts." That's no surprise. He's a strikeout machine while healthy, gassing hitters with a 93 mph fastball mixed with a slider. At his best, Soriano could close for most MLB teams. And, as Chris at iYankees notes, Soriano is no Kyle Farnsworth. That's fine, but it doesn't take into account the other factors that negatively affect Soriano.
Draft pick compensation is one of those issues. As Brian Cashman said on Tuesday, the team doesn't plan to sign a Type A free agent setup man, because it would cost them their first round pick. For certain players, that pick is just a marginal cost of acquisition. When you want to add CC Sabathia, A.J. Burnett, or Mark Teixeira to your roster, you pay the draft pick tax without question. But when you get to players who will have less of an impact, it becomes more of a consideration.
Working against Soriano is his injury history. He stayed relatively healthy in 2009, missing time with a sore shoulder that didn't require a DL trip. In 2008, however, he wasn't so lucky, pitching just 14 innings while dealing with elbow troubles. These aren't small issues. A hard-throwing reliever with arm problems is not someone to whom you want to commit many years and dollars. When there's a draft pick tax attached on top of that, it's a sign to stay clear.
Best case scenario, Soriano would give the Yankees the best setup man-closer combo in the game. But there are many other factors to consider beyond Soriano's talent. There's the cost of acquisition, consisting of total salary, luxury tax implications, and draft pick compensation. Is that worth the risk of Soriano missing even more time with arm troubles? I don't think so. I'd love to see Soriano gassing guys in the eighth, but the cost of acquiring him is just too great.
Photo: Paul Spinelli / Getty Images