Ah yes, the minor league contract. It's usually the last resort for players still looking for work as reporting dates draw close, unless they want to try their hands in an independent league, of course. Teams will look for some veteran players to fill in the gaps in their minor league rosters, perhaps bring in an emergency catcher, maybe gamble on an arm coming back from injury, stuff like that. No one goes in expecting to find an above average player that will complete their roster when handing out minor league contracts.
The Yankees have already signed four players to minor league contracts that we know of (Jon Weber, Reid Gorecki, Royce Ring, and David Winfree), and they'll surely add a few more. The important thing to do with minor league deals is keep expectations low. As in none at all. Most of the time they amount to nothing, but every once in a while you run into a Carlos Pena, who for no reason whatsoever puts it together and becomes a productive player (disclaimer: Pena was arguably the best prospect in baseball once upon a time). More often then not, you're hoping to get 30 decent mid-season innings or 150 good at-bats as an injury fill-in. Nothing more, nothing less.
Most players who accept minor league deals after spending considerable times in the majors (like the ones I'm listing in this post) usually have an opt-out clause built into their contract, meaning that if they're not called up the big leagues by a certain date (typically mid-May), they get to become a free agent and seek gainful employment elsewhere. This happened with Brett Tomko last year, who the Yanks called up in early May because he was killing it in Triple-A and they didn't want to lose him to his opt out clause.
This post was originally going to feature three players I thought would help the Yankees on minor league deals, but then Tyler Walker had to go and sign with the Nationals yesterday afternoon. So now you get just two players. Blame Tyler, not me.
Gabe Gross, OF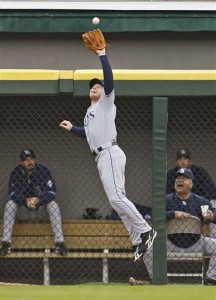 After trading away Austin Jackson and Melky Cabrera earlier in the offseason, the Yankees' outfield depth took a major hit. Gorecki alleviates some of that, however he has zero track record in the big leagues. Same deal with Weber and Colin Curtis. Gross, who you surely remember from his time with the Rays the last few years, was non-tendered despite his reasonable salary ($1.3M in 2009) and remains available.
At age-30, the lefty swinging Gross is what he is, and that's a league average bat (at best) with very good defense in the outfield corners. Gross' down season in 2009 (.227-.326-.355, .306 wOBA) followed a three year stretch in which he hit .247-.347-.438 with a .347 wOBA, so any team that signs him would be hoping for an offensive rebound. His three-year UZR in right field is +22.7, which is among the best in the game. Frankly, I'm surprised that someone didn't gobble Gross up yet (and I'm not alone), even an NL team as a fourth or fifth outfielder.  If the Yanks could bring him aboard on a minor league deal and are able to stash him away in Triple-A for a month or two (assuming he'll get an opt out) as Brett Gardner/Jamie Hoffmann insurance, there's absolutely no downside.
Photo Credit: Nam Y. Huh, AP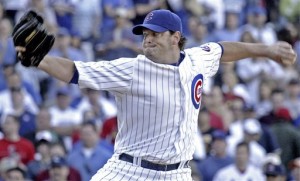 Will Ohman, LHP
One of the game's more established lefty relievers, Ohman's season ended in late-May because of an issue with the AC joint in his throwing shoulder. He managed to strain the flexor tendon in his elbow during his rehab, and ended up having surgery on the shoulder in September. Ohman is expected to be ready for Spring Training, though the Dodgers declined his $2.2M option after he posted a 5.84 ERA and lefties had a 1.295 OPS off him in 12.1 IP. They didn't even bother to offer him arbitration even though he was a Type-B free agent.
When he has health on his side – which, admittedly, is a major question mark right now – Ohman is more than just a serviceable lefty specialist. Prior to his 2009 injury-aided disaster, he held lefty batters to a .197-.283-.317 batting line in 441 plate appearances, striking out close to 30% of 'em (28.2%, actually). Believe it or not, he was actually throwing harder with the injury last year than he had in the previous few seasons. I've never been of the belief that having a lefty in the pen was essential, but when Damaso Marte's backup options include Boone Logan and Royce Ring, I don't see the harm in bringing Ohman aboard on a minor league pact. Assuming he's game for it, of course.
Photo Credit: James A. Finley, AP