We all love box scores — or, at least, I hope everyone else does. It's going to be strange soon, having a generation of baseball fans who didn't grow up waiting for their dads to finish reading the sports section so they could read all the box scores from the previous day. But while the actual experience will change, the box scores will not. We'll still see them, just in pixels on MLB.com instead of on paper with dried ink.
One great thing about the internet, though, is that it doesn't have the space limitations of a newspaper. Box scores caught on because they fit a lot of data into a relatively small space, allowing papers to print them all on one page. Today we don't have to limit ourselves to that. We can still present the box score in its original format, because people find it familiar, but we can also experiment a bit more with new was that might take up a bit more space. FanGraphs's WPA chart is just one example. We can post this along with the original box score, and it really doesn't matter because we're not limited to a certain space.
At Baseball Analysts, Dave Allen imagines a box score of his own. It's in a linear format, like the WPA charts, but it does it in a different way. Here's the example, though make sure you read the post for the full gist of what he's doing. Also, click on it for a larger version.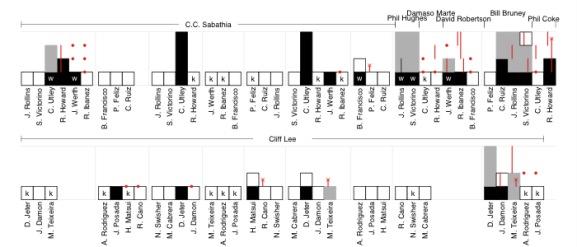 In 2010 we plan to add more game data to our recaps. The regular box score will likely be part of that, but we also want to think about other ways we can present information from the game. If you're so inclined, leave the comments below, and we'll sift through and see if there are any ideas we can use. Nothing's off-limits now that we're not constricted by space, so think as out of the box as possible.
If you'd rather just BS, well, that's why this is an open thread. Toronto visits the Devils, the Nets are in Boston, and Milwaukee plays the Knicks at the Garden.