Over the past few years, specifically since the failed Kyle Farnsworth signing, the Yankees have changed their approach to building a bullpen. Instead of signing high-priced veterans like Steve Karsay, Paul Quantrill, and Tom Gordon, the Yankees have used younger, cheaper options to fill the later innings and bridge the gap from starter to Mariano. That strategy took shape in 2008, when the bullpen consisted mostly of players with under three years of service time: Joba Chamberlain, Jose Veras, Edwar Ramirez, Dan Giese, Brian Bruney, Ross Ohlendorf, Jon Albaladejo, and eventually Phil Coke. As the year progressed some of those pitchers succeeded and stayed, while others failed and went to Scranton. The key was flexibility.
The Yankees did sign a veteran free agent that off-season, which in a way ran counter to the strategy. While the Yankees probably didn't expect LaTroy Hawkins to step into the eighth inning role, they expected that he could have held down the middle innings. That didn't work out too well, though, and the Yankees designated Hawkins for assignment at the end of July, eating the remaining $1.2 million in his contract. Thankfully for the Yankees it was only a one-year deal, allowing them to cut loose Hawkins when it became necessary, though perhaps the $3.75 million salary made them pause a bit too long before releasing him.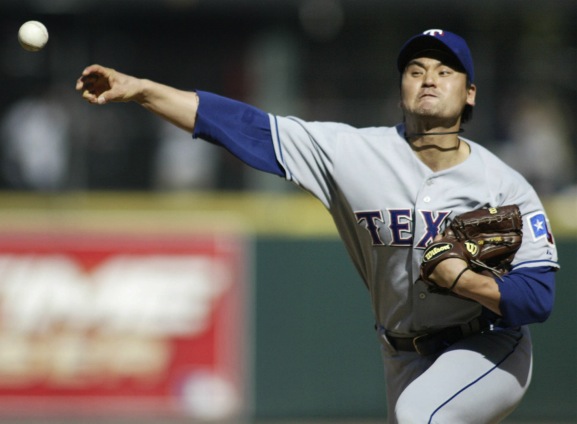 Photo credit: Jim Bryant/AP
The $1.2 million they ate for Hawkins equals the entire contract of Chan Ho Park, who will join the major league bullpen this season. He's coming off an excellent season in Philadelphia, though you might not think it just by glancing at his aggregate stats. I covered his excellent bullpen stint at FanGraphs, so I'll spare you a repeat here. For those not inclined to click through, the main takeaway is that Park struck out more than a batter an inning, walked one out of every 12.88 batters he faced, and allowed zero baseballs to leave the yard.
Despite the quality 2009 performance, Park still holds a poor reputation among among fans. After breaking into the league with the Dodgers, he signed a five-year, $65 million contract with the Rangers in December 2001. In the first three years of the contract, Park pitched just 271 innings and posted an ERA of 5.85 against a 5.48 FIP. During his fourth season the Rangers had seen enough, shipping him to San Diego for Phil Nevin. While Park improved the next year, making 21 starts and three relief appearances, he still posted a 4.81 ERA and 4.66 FIP. PETCO Park can probably claim credit for a good portion of the improvement.
Prior to that 2006 season, Park pitched for Korea in the WBC. He appeared four times, making one start and three relief appearances. In the start he got a no-decision, but in each relief appearance he picked up a save. Over 10 innings he struck out eight and walked none, allowing just seven hits and no runs. Unfortunately for Korea, Park couldn't pitch in the semifinals against Japan, as he started the semifinal game against them just a few days prior. Japan won the rematch 6-0, sending Korea home.
After the year in San Diego, Park signed a minor league deal with the Mets, where he pitched 51.2 poor AAA innings before tossing 4.0 major league innings. He allowed seven runs in that span and was released shortly afterward. The Dodgers took a chance on an old friend the following winter, and here Park succeeded. He appeared in 54 games, starting five, and posing a 3.40 ERA. That earned him a $2.5 million contract with the Phillies last season. He pitched 3.1 innings in the World Series, allowing just two hits while walking one. He struck out four Yankees and allowed none to score.
It appears the Yankees made out well in this deal, signing a pitcher who thrived in the bullpen last year to a reasonable contract. If things go poorly, they can eat the remainder. If things go well, they'll be out an additional $300,000. As I said in the FanGraphs article, it appears the Yankees believe something changed when Park moved to the bullpen last season. His numbers in relief for the Dodgers in 2008 weren't nearly as good, so there's a chance Park just got lucky. In fact, he certainly did get lucky, as no pitcher can sustain a zero percent home runs to fly ball ratio. But if Park can maintain his high strikeout and low walk rates, he can afford to surrender a few longballs and still be a solid cog in the bullpen.
Park made a successful move from the rotation to the bullpen last season, but this year's transition will be tougher. He'll move from the NL East to the AL East, where the batters tend to hit the ball harder. According to Baseball Prospectus's Pitcher's Quality of Batters Faced, the hitters Park faced posted an aggregate .258/.334/.398. While many of the Yankees relievers faced aggregate hitters with similar batting averages and OBPs, they all faced better power hitters. All of the slugging percentages were over .410, and many were near or over .420. Park will have to work even harder in 2010 to keep his home run rate down.
At just $1.2 million, the Yankees made a good move to acquire Park. They shouldn't expect him to pitch like he did for the Phillies last season, but even a level below that would be acceptable. He fills a spot in the pen and allows the Yankees some flexibility, possibly in making a trade using another pitcher who was slated for the bullpen. The worst case scenario is that he stinks early on, doesn't get used often, and the Yankees eventually eat the remainder of his contract. Best case, he pitches solidly in middle relief and gives Girardi yet another option when he makes the call to the pen.