The 2010 New York Yankees held their first official full workout of the season today, and already it's easy to notice a big difference between this year and years passed: It's quiet.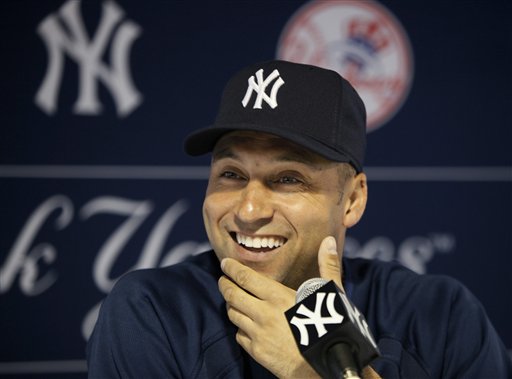 Fresh off their 27th World Championship, there's no early season controversy surrounding the Yankees in 2010. Last year we had Alex Rodriguez's steroid revelations, and before that there was the PED clouds of Andy Pettitte and Jason Giambi. In between we were forced to deal with everything from rotation questions to bullpen questions to questions about Bernie Williams' role to questions about the almighty Joba Rules. It seemed that anything and everything was fair game, and often it was.
Things are much different this year though, mostly because the team doesn't have to answer questions about playoff failures or a mega free agent signing. Everyone seems to understand that Johnny Damon and Scott Boras overplayed their hand, and that they need not look beyond a mirror to find someone to blame for his being in Detroit. GM Brian Cashman replaced Damon and Hideki Matsui, productive yet aging players, with equally productive players in the prime of their careers and on affordable contracts. Nostalgia clearly has taken a step back in the Bronx.
Right now, the biggest issues facing the Yankees are the expiring contracts of Derek Jeter and Mariano Rivera, the two longest tenured players on the team. Jeter addressed just that this morning, saying "I've never gone into a season focused on the next season … This is the only organization I want to play for. I don't think I can say it enough times. I'm not worried about what my legacy is at this point." The Captain then said he won't be discussing his contract situation after today, and he's never given us a reason to doubt him. Rivera – and also manager Joe Girardi – dealt with his contract situation the same way. The controversies were snuffed out before they even had a chance to begin.
We've already dealt with the MSM manufactured storyline of complacency, though there are sure to be attempts to drum up something else to fill the column inches. The Phil Hughes-Joba Chamberlain fifth starter battle is nothing more than a Spring Training position battle, something that's happening in 29 other camps in Florida and Arizona. Ditto the Curtis Granderson-Brett Gardner leftfield-centerfield situation. But those dull topics have already been discussed ad nauseum this offseason. There's nothing more left to talk about, all we have to do is sit back and watch. Like it's supposed to be.
For the first time in a long time, it's just baseball around Yankees' camp. And I absolutely love it.
Photo Credit: Kathy Willens, AP