Young pitching can be both a blessing and a burden. A blessing because they represent hope for the future. A burden because they oftentimes stumble early in their careers. Many teams, especially those with lower payrolls, gladly accept these foibles in exchange for potential ace production in the future. But for a team like the Yankees, with a huge payroll and a demanding fan base, growing pains are not as easy to stomach. We need look no further than Joba Chamberlain for proof.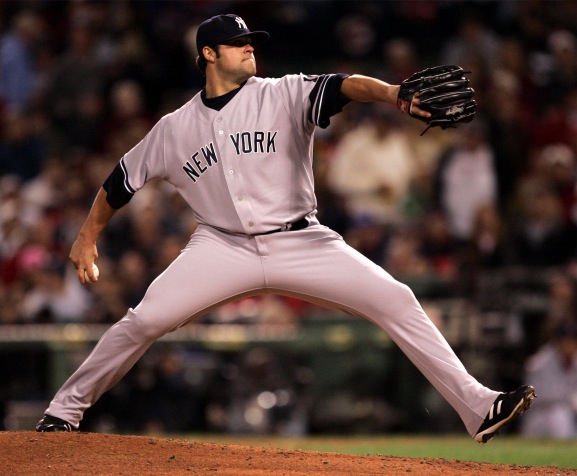 Thankfully for the Yankees, they have the resources to sign top pitchers as free agents. This takes the pressure off them to develop their own arms, as they can pay top dollar for the best free agent arms. This isn't always the best strategy, as we saw in the 2004-2005 off-season. But, when applied to top-flight pitchers the team has coveted for years, the payoff can be great. It might mean overpaying, but it also means more of a sure thing than a young, developing starter.
But what if the supply of young, top-flight starters dried up? What if more and more of the game's top arms opt to sign extensions while they're still under team control, rather than sign a series of one-year contracts until they reach free agency? That certainly changes the equation for the Yankees. When players sign extensions during their arbitration years they typically forgo at least a year, oftentimes more, of free agency in exchange for security. After all, they might blow out their arms at any time.
For the Yankees and other high budget teams, this means a shallower pool of free agent pitchers still in the primes of their careers. We've seen three of the games best young pitchers sign extensions this off-season: Felix Hernandez, Josh Johnson, and Justin Verlander. Hernandez, who will turn 24 in April, signed a five-year extension in January. It sounds insane, but he'll 29 when he reaches free agency. That's young enough that the Yankees still might target him, but not nearly as attractive as he would have been, at 26, had he not signed the extension.
Johnson, who finally bounced back after missing much of the previous two seasons with injuries, is just 26, and would have hit free agency at age 28 after the 2011 season. His contract is heavily backloaded, meaning he'll likely be available after the 2011 season, but in a trade. At least in this instance the Yankees wouldn't have to pay in both prospects and a long-term contract. In 2012 and 2013 Johnson will make a combined $27.5 million before hitting free agency at age 30.
Verlander, 27 later this month, would have hit free agency the same year as Felix. Yeterday, he reportedly reached an agreement with the Tigers for a five-year, $80 million contract. Had he gone year-to-year, he would have hit free agency at age 29. He'll now hit free agency at age 32. Again, this hasn't stopped the Yankees. They did, after all, sign A.J. Burnett at the same age. But it's not nearly as attractive a proposition now that he's locked up for the next five years.
Beyond the matter of losing prime-age years, these extensions also mean slimmer pickings in the coming years. The 2011 free agent class figured to feature Zack Greinke, Roy Halladay and Cliff Lee, but Halladay signed an extension and probably won't hit the market until he's 38, and Greinke, who would have hit free agency as a 27-year-old, signed an extension that will keep him in Kansas City two years longer. In 2012 we would have seen Verlander, Johnson, and Hernandez, but now they're locked up. Adam Wainwright would have been in this class, too, but the Cardinals have him locked up affordably through 2013. Matt Cain is all that remains. Even in 2013 Jon Lester would have been a free agent, but the Sox signed an extension to keep him around for two additional years. Chad Billingsley, John Danks, and Cole Hamels are scheduled to hit free agency, but as we can see that remains far from a certainty.
Over the next two years, just two top flight starters will hit free agency, Lee and Cain. There will be others — Brandon Webb and Josh Beckett come to mind for next off-season, but if the Sox don't reach an extension with Beckett shouldn't teams be a bit concerned? — but there figure to be very few Sabathia-type arms hitting free agency over the next three years. And, given the enthusiasm of teams to lock up their young starters, we could see this scarcity continue for years to come.
As a result, the Yankees have no other choice than to develop their own young starters if they want to maintain a top of the line rotation. It might hurt, and we might see a few of them turn in seasons like Joba's 2009. But in future years, when a few of those starters pan out, the Yankees will reap the rewards — meaning they can sign their own young pitchers to long-term extensions, keeping them out of the prying claws of those greedy Yankees. Wait, what?
Credit: AP Photo/Charles Krupa