Over the next four days we will preview the teams the Yankees will play most frequently in 2010. Kicking things off is the team they will face on Sunday night, the Boston Red Sox.
Lineup
The Red Sox have quite a different look than they did in the mid- and late-00s. Gone are the days of the best 3-4 combination in baseball, David Ortiz and Manny Ramirez. Now Victor Martinez and Kevin Youkilis will assume those roles. They might not be as intimidating as their predecessors, but they're both excellent hitters who will provide the bulk of the power in the Sox lineup.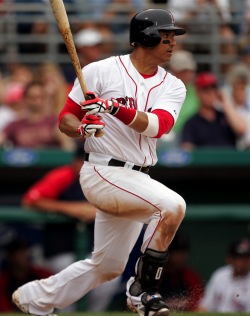 Among all major league catchers last year, Victor Martinez ranked third in wOBA, behind Joe Mauer and Jorge Posada. That can be an outstanding advantage, but it's not always the case for Martinez. Of his 672 plate appearances in 2009, just 366 game as a catcher, or 54.5 percent. Even after his move to the Sox he started just 31 of 53 games at catcher. He otherwise played first base, but that becomes more of a problem this season. Not only is Youkilis entrenched as the starter, but the Sox also have Adrian Beltre at third and Mike Lowell as the first guy to back up both positions. The Red Sox will apparently find out if Martinez can handle an entire season behind the plate.
Youkilis ranked fourth in wOBA among major league first basemen, finishing ahead of Mark Teixeira. Youkilis accomplishes this mostly with his plate discipline. His 13.1 walk rate led to a .413 OBP, besting Teixeira's mark by .030. For Youkilis it was yet another improvement in his wOBA. Since becoming a full-time player in 2006 he's seen improvement every year, going from .357 to .373 to .402 to .413. Combine that with quality defense — his 9.1UZR/150 over the past three seasons ranks best in baseball — and he becomes an all-around threat. He might not be Manny, but Youkilis is a perfectly capable cleanup hitter and first baseman for the Red Sox.
Jacoby Ellsbury will again hit in the leadoff spot, after posting a .355 OBP in 2009. Though he doesn't have a lot of power, just a .114 ISO over the past two seasons, he gains an extra base out of many walks and singles. Last year he led the AL with 70 steals while getting caught only 12 times, a stellar 85.4 percent success rate. That means having a runner in scoring position more frequently for not only Pedroia, but also the middle of the order. Ellsbury has come close to 100 runs in each of the past two seasons, and could finally eclipse that mark in 2010.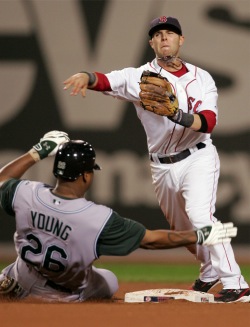 Dustin Pedroia didn't reproduce his 2008 MVP campaign in 2009, but he still turned in a quality season. His BABIP fell to .297, from around .330 in the previous two years. That put his average 30 points below his 2008 level, though he compensated by raising his walk rate by 3.5 percent. If he keeps up that walk rate and sees a rebound in his BABIP, he could be in for another killer season. In fact, if Ellsbury continues improving and Pedroia rebounds to near his 2008 levels, the middle of the Sox order will have plenty of opportunities to drive home runs. We've heard concerns about the Sox offense this off-season, but I just don't see it. As I've laid out here, their top four hitters are all offensive weapons.
David Ortiz moved out of the No. 3 spot in the lineup last year, and it appears the move was permanent. He'll bat fifth to start 2010, though that could change depending on how he hits. If he starts off as slow as he did last season he could drop even further, perhaps all the way to seventh. His value comes mostly from his power, the main aspect that recovered later in the year. From June 11 through the end of the season he hit .264/.356/.549, so his SLG more than doubled his BA. At 34 years old and after struggles in the past two seasons, it's unlikely that Ortiz ever finds a .400 OBP again, but he can still help the team with his power.
The lineup becomes a question at this point. While Terry Francona knows the players who will fill the spots, he doesn't know exactly how they'll be arranged. J.D. Drew is probably the next best hitter in the lineup, but Francona wants to avoid batting lefties back to back. He'll likely do that, though, since Drew is clearly a better hitter than Adrian Beltre or Mike Cameron. In fact, if Ortiz struggles Drew could find himself hitting fifth. After that Cameron and Beltre will hit in front of Marco Scutaro, the coveted wrap-around leadoff hitter. It's unlikely that Scutaro reproduces his excellent 2009 campaign, but he'll certainly present an upgrade over the smorgasbord of shortstops the Sox have trotted out over the past few years.
A fully recovered Mike Lowell could provide pop off the bench, hitting for Scutaro when the team needs a base hit. He could also pinch hit for Cameron in a situation where the team needs a base hit. Cameron gets on base at a decent clip and hits for power, but his batting average always sits around .250. With, say, the tying run on second Francona might be more comfortable with Lowell at the plate. There's also the possibility that he pinch hits for Beltre, but that would signal that the latter isn't getting the job done at the plate. In that case, Lowell might be making a bid to reclaim his place at third. I wouldn't bank on it, though; the Sox signed Beltre primarily for defense, and by most accounts Lowell just isn't up to speed in the field.
Pitching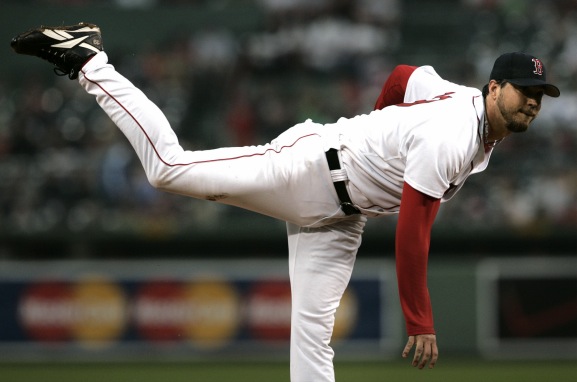 Like the Yankees, the Red Sox are trying to discard the notion of a fifth starter, instead employing a slew of ones, twos, and threes. In fact, their rotation looks a lot like the Yankees: three ones and twos on top (CC, A.J., and Javy vs. Beckett, Lester, and Lackey), a young but promising starter (Hughes vs. Buchholz) and an older but solid option at the back of the rotation (Wakefield vs. Pettitte). But just because they break down similarly does not mean that the talent and depth is equal.
Last season at this time, commentators lauded the Red Sox pitching depth. Not only did they have a solid starting five, but they also had Clay Buchholz in the minors and John Smoltz on his way to a June debut. Injuries and ineffectiveness derailed that plan, though, and the Sox scrambled for pitching most of the season. This year they're in a slightly worse spot, though the top of their rotation is stronger wit the addition of John Lackey. He'll join Josh Beckett and Jon Lester to form perhaps the best 1-2-3 in baseball.
Injuries are still where the Sox are vulnerable. It appears Josh Beckett's yearly DL trips have been replaced by yearly bumps and bruises that keep him out of action for a little bit, but which have not necessitated DL trips. From 2002 through 2005 he missed a total of 222 days to the disabled list and another eight with a blister issue. He has spent just 50 days on the DL with the Red Sox, and missed just five days total in 2009. He'd help not only the team, but himself, with another injury free season. He's a free agent come November, and will be among the most coveted pitchers on the market.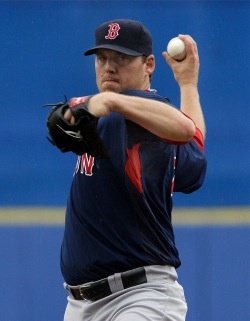 It appears that John Lackey won't miss the beginning of his third straight season with arm troubles, but after missing 103 days over the past two seasons he still presents a risk. The Red Sox did insert language into his contract covering them in case he needs surgery on his elbow, but that concerns the future. There's nothing the Sox can do if he gets injured now, and especially nothing they can do if he doesn't need surgery. Still, he's been strong in the past two years after recovering from his injuries. A repeat of last year would be an enormous gain for the Sox rotation.
Wakefield also presents injury concern. He missed 62 days last season, including 48 on the DL, with various back issues. He has spent time on the DL with back issues in each of the past three, and missed 57 days with a ribcage stress fracture in 2006. If he can get through April then Daisuke Matsuzaka might be ready to take his place in the rotation. But, again, Matsuzaka spent most of last year on the DL and has had issues in camp this year. He'll be out for a month or so to start the 2010 season.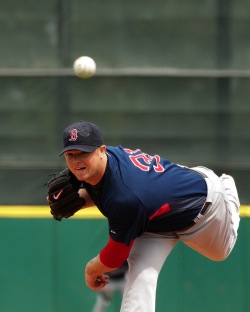 The Sox need not worry themselves with Jon Lester and Clay Buchholz. Since returning from cancer treatment Lester hasn't spent a day on the DL, nor has he missed a start because of injury. He started off slow last year, but if he pitches like he did from May 21 on last season — 156.1 IP, 2.48 ERA — he'll again head the Red Sox rotation. Beckett might head it in name, but Lester could be the better performer. He should be a lesson applied to all young pitchers. After struggling with a high walk rate in the minor and his first two partial MLB seasons he turned it around in 2008, bringing his mark to below 3 BB/9. The Red Sox exercised patience, and it paid off.
Boof Bonser, Michael Bowden, and Junichi Tazawa represent the next pitchers in line for a starting shot, and none is all that inspiring. Tazawa has the highest ceiling of the trio and performed well last season after a rocky start to his MLB career. If one has to make double digit starts it shouldn't be a huge problem. But if the Sox have to employ more than one, at once, then they could find trouble with the rotation. Considering their injury potential, they can't be too happy about that. But with an already deep rotation, it's tough to find quality depth.
The bullpen is still strong, with Hideki Okajima and Dan Bard setting up Jon Papelbon. Apparently Papelbon understands the issue with him throwing fastball every time and will mix in his splitter more this season. Other than that the Sox have questions in the bullpen, from Manny Delcarmen's inconsistency to Bonser'a sbility to hold down the long man role. Ramon Ramirez shouldn't be as much of a question mark, though his numbers did dip after an indefatigable start to last season. If Bard continues to improve he, along with Papelbon and Okajima, could create one of the top endgames in the league.
Adding it all up
Because they were bounced in the ALDS, and because the Yankees went on to win the World Series, I feel like the Sox have been undersold this winter. They approached the off-season with a plan, and a plan I think will work out well for them. The best offensive players on the market came at a high long-term cost, so the Red Sox decided to put their money into defense and pitching, a strategy that might help neutralize the better offenses in the league.
All around the diamond they feature plus defenders. Again, Youkilis ranks first among first basemen in UZR/150 over the past three years. Pedroia ranks fifth among second basemen (and only 0.1 behind No. 4), Scutaro ranks eighth among shortstops (with at least 2,000 innings), and Beltre ranks fifth among third basemen. They added a plus defender in Cameron to go with Drew's plus defense. And, although UZR didn't rate Ellsbury as a quality center fielder last season he still could be an asset in left.
If the Sox have a weakness this season it's their injury vulnerability. One of their Opening Day starters is already on the DL, and his replacement, Wakefield, features a rough recent injury history. Beckett and Lackey have also spent a good deal of time on the DL in their careers, causing a bit more concern. Their depth isn't good enough to adequately cover more than one injury at a time, meaning health is a huge key for them, more so, perhaps, than for most other teams. Commentators rave about their medical staff, though, so perhaps that will factor positively into their season.
One thing is for certain: do not sleep on the Sox. They have assembled a very strong team that will battle to the end with the Yankees and Rays for the AL East crown. If they catch the breaks that the Yanks did last season, they could certainly have a long playoff run in them.