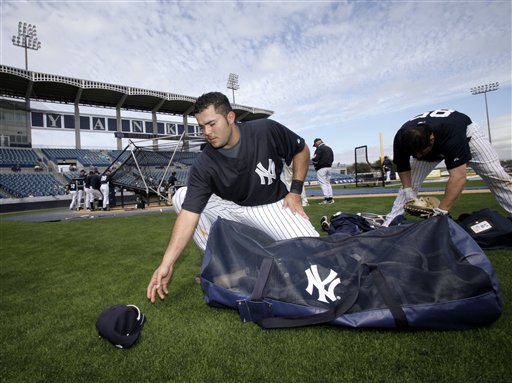 After Mark Teixeira took a Jeremy Guthrie fastball off his elbow in last night's game, every Yankee fan was concerned about their MVP caliber first baseman. Luckily it's just a bruise, so everyone on the ledge can take a step back. "We did all the different tests and it's just going to be sore for a couple of days," said Tex. "Just going to do treatment all day tomorrow, reassess it on Wednesday and at the very least I'll play Thursday." Given how exposed and vulnerable the bone is at the elbow, that's pretty much the best case scenario.
In the short time between the HBP and the injury update, many of us couldn't help but wonder what would happen if it was serious enough to put Tex on the DL for a few weeks. The answer's pretty simple, actually. Nick Johnson would have played first, Juan Miranda would take Tex's roster spot, then he and Marcus Thames would have platooned in the designated hitter's spot. It's not an ideal scenario, but it's certainly doable. It's much better than having Cody Ransom replace Alex Rodriguez one-for-one. Heck, given Tex's historical struggles in April (.338 wOBA in March/April, over .390 the rest of the way), you could argue that the team wouldn't lose any production.
Even though that's the most likely scenario, there's always that thought in the back of everyone's head … what about Jesus Montero? Instead of the bitter taste of Thames/Miranda, the Yankees could slot Montero into the DH spot full-time, and let him go to town. However, Eno Sarris reminds us that only four position players (Miggy Cabrera, Delmon Young, the Uptons) have made their debut before the age of 21 this century, and things didn't exactly go as planned. They combined to post a .756 in over 700 plate appearances before reaching drinking age (most of that thanks to Cabrera), which is certainly good for a 20-year-old, but is it worth the lost development time?
Joel Sherman notes that the Yanks' top prospect showed up to camp overweight this spring, but took his conditioning program seriously after reporting and shed all the excess weight by the time he was reassigned to minor league camp. Some tough love from Joe Girardi and Tony Pena certainly didn't hurt. More importantly, Montero continues to work hard at improving his defense and maintains that he wants to be a big league catcher, which at this point remains very much in play.
Both the team and the player have a lot more to gain by letting him catch every day in the minor leagues at this point. Montero only has 181 plate appearances above A-ball, which is important to remember. Jumping from the Florida State League to the AL East within ten months isn't exactly a recipe for immediate success, regardless of how good his bat looks. I want to see him in the Yankees' lineup as much as the next guy, but rushing him is a typical Mets kind of move. Shortsighted, and showing complete lack of a development plan.
So to answer the question in the title of this post … yes, they always could call on Montero this season, but don't count on it. He will reach the big leagues sooner rather than later, don't worry. A September callup in 2010 is very much a possibility, but the 2011 debut is much more likely. For now, enjoy watching him pound on Triple-A pitching while the big league team scores 900 runs again. Everyone will be better off for it.
Photo Credit: Kathy Willens, AP