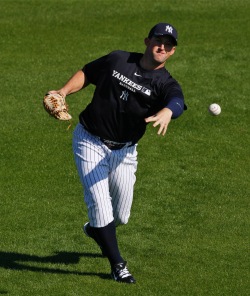 Just as the Yankees added a member to their bullpen, they might have lost one. Yesterday we learned that Al Aceves will miss his appearance today as he suffers from lower back issues. He missed nine days last August with soreness in the same area and struggled as he tried to pitch through it. In the three appearances between his missed time he threw six innings and allowed nine runs on 11 hits and two home runs. There's a chance that he could recover by Opening Day, but chances are the Yankees want to make sure he's 100 percent before he returns.
This isn't all bad news. If Aceves does open the season on the DL the Yankees can backdate the move either nine days or the date of Aceves's last appearance, whichever is shorter. Since Ace has not appeared in a game since Friday the Yankees can basically get a running start on his DL time. He would be eligible to come off the DL on Friday, April 9, meaning he'd miss just three games. The Yankees could certainly use this rule to their advantage, allowing Aceves time to rest and build back up before returning to the team in Tampa, or perhaps on the 13th at home at the latest.
All spring long Joe Girardi has expressed a desire to carry two lefties in the bullpen. Given the team's construction, however, that didn't seem realistic. Seven pitchers lay claim to the seven bullpen spots, only three of whom have options. With David Robertson, Joba Chamberlain, and Aceves ready for significant roles, there is no way the Yankees would option any of them. It seemed for a while that Girardi would have to settle for a bunch of righties who fare well against both same and opposite handed batters. The Aceves injury, however, now appears to open a spot for either Boone Logan or Royce Ring, both of whom have fared well this spring.
Logan has the leg up here because he is on the 40-man roster. Drafted in the 20th round of the 2002 draft, Logan began his minor league journey as a starter, but after abysmal performances in rookie ball during his first two seasons the Sox moved him to the bullpen permanently in 2005. He hasn't started a game, majors or minors, since. He adjusted well — extremely well, even, considering the White Sox basically moved him from rookie ball straight to AAA (with a 5.1 inning layover in A+). After a cup of coffee in 2006, Logan found himself in the majors to stay in 2007.
His first tour of the majors didn't go too well. He pitched 50.2 innings for the White Sox in 2007 and got hit around. His 4.97 ERA nearly matched his 4.84 FIP. His strikeout rate of 6.22 per nine fell far below the levels he attained in the minors, and his 3.55 BB/9 and 1.24 HR/9 rates also contributed to his poor performance. He came back in 2008, though, with 8.93 K/9 and 2.98 BB/9. His home run rate went even higher, sapping his performance. The .393 BABIP didn't help either. After the season the White Sox traded him to the Braves in the Javy Vazquez trade. Apparently the duo is a package deal.
Atlanta took advantage of Logan's options, sending him down to start the season and recalling him toward the end of June. You might remember his season debut on June 25, when he loaded the bases for A-Rod, who singled home a pair of runs to give the Yankees a four-run lead. Things got better, as Logan didn't allow a run over his next nine appearances. But in August he got touched up a couple of times, inflating his ERA. It's tough to judge Logan's 2009 given the tiny sample, but clearly he wasn't any great shakes.
As a lefty specialist Logan has some potential. He has faced 289 same-handed batters over his career and other than a way too high .340 BABIP everything looks pretty good. He could do with fewer home runs, but his strikeout and walk rates have been acceptable at the major league level. His FIP and xFIP, 3.81 and 3.65, indicate that he might be of some use, but he'll need an improvement in his home run and walk rates if he's to find success even in a matchup situation. In other words, even if he does break camp with the team because of Aceves's injury, don't expect him to stick around long.
Still, it appears that Girardi will get his wish. It might be for only a few games, but if the Yankees choose to exercise caution with Aceves then Logan should be heading to Boston with the team. Given both David Ortiz's and J.D. Drew's abilities against lefties, though, I hope he doesn't register an appearance before joining the reserve bullpen in Scranton.