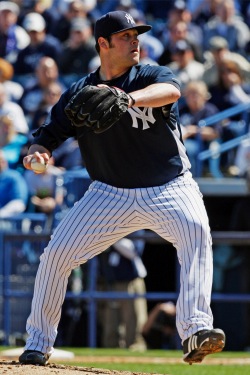 At this point last year, we began wondering about Joba Chamberlain's velocity. After throwing in the upper 90s out of the bullpen, and then mid-90s in the rotation, Joba had been throwing in the low-90s for most of spring training. This caused particular concern because Chamberlain had missed more than a month in 2008 with shoulder tendinitis. Without his heat, would he be as effective a pitcher?
Clearly, Joba needed to make adjustments if his fastball was to average 92 instead of 95. He didn't make them consistently in 2009 and it led to a somewhat frustrating season. Now, as we head into a new season, we're again wondering if Joba will recover his velocity, or if he'll sit in the low 90s for the foreseeable future. As long as he can make adjustments with his command and secondary pitches his velocity shouldn't be a problem. For a good sample case, we can look to last year's NL Cy Young winner and the man picked 31 spots ahead of Chamberlain in 2006.
According to the Pitch F/x gun, Tim Lincecum went from averaging 94 mph in 2008 to 92.4 in 2009. Yet he struck out hitters at the same clip, gave up fewer hits, and walked fewer batters. In other words, he made the adjustments necessary to compensate for diminished fastball velocity. He continues to work with his new physical realities, and is honing his secondary pitches again this off-season. In particular, it looks like he's working with his slider, perhaps with a goal of throwing it more than 10 percent of the time.
For Chamberlain, the drop-off seems a bit more precipitous. He went from averaging 95.2 mph in 2008 to 92.5 in 2009. That might appear to mislead, since it counts Joba's innings as a reliever, where he threw in the upper 90s, along with his starts. But he also threw bullpen innings as a reliever after the injury and averaged just 93.9 mph there. As a starter, from June into August, he averaged 95.1 mph. I don't think it's likely that he consistently reaches that level as a starter again.
Even so, his velocity matched Lincecum's last year. One major difference is that Lincecum adjusted by throwing the fastball less often. When it sat 94 mph in 2008 he threw it 65.5 percent of the time. But with a bit less zip he threw it less, just 55 percent. Joba, on the other hand, continued to throw the fastball frequently, at 63.3 percent. He also focussed on one secondary pitch, his slider, over another, his curve, while keeping the changeup almost completely out of his arsenal. Conversely, Lincecum used his two secondary pitches, change and curve, about equally. He also worked in his slider 7 percent of the time, more than Joba used the change.
Reducing his reliance on the fastball won't necessarily make Joba a better pitcher. After all, if he doesn't have confidence in his secondary pitches they won't be very effective. But I think that continued heavy use of the fastball will present problems for his development. He certainly can succeed with it, but he might not be able to do so consistently. And if he can't do that, it's likely to the pen with him.
Photo credit: Kathy Willens/AP