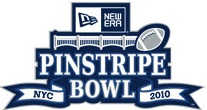 The Yankees, along with the Big 12 and the Big East Conferences, ESPN and the New Era Cap Company, announced today that Yankee Stadium will play host to the New Era Pinstripe Bowl on Dec. 30, 2010. The game, set to be broadcast nationally on ESPN, will feature the third-best Big East team and the sixth-best Big 12 team, and it will be the first college bowl game hosted by the Yanks since 1962.
"We're very excited to be hosting the Pinstripe Bowl — two great football conferences, the Big 12 and the Big East. We all know the old tradition that's held across the street is a rich history. Most of it is baseball, but there's football there, too," Hal Steinbrenner said at the morning press conference. "Football has always been a love of my dad. He played it; he coached it; he's got a great many friends in the sport itself. He's very excited about this. He's looking forward to December, as we are all."
New Era, celebrating its 90th year as the nation's premier cap company, has agreed to sponsor the game for the next four years. They will, unsurprisingly, be the exclusive headwear provider for the Pinstripe Bowl as well. The Yanks unveiled the game's official logo, seen above, today as well.
For more on the Pinstripe Bowl, check out the game's official site. With Notre Dame set to play Army at the new stadium on November, the Bronx should play host to a pair of compelling college football games this year. How the field will be arrayed remains to be seen.