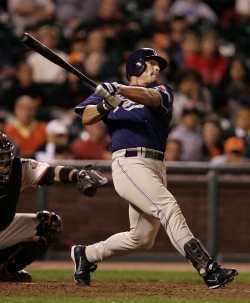 In the second retirement announcement in two days, Brian Giles has decided to hang 'em up. He had signed a minor league contract with the Dodgers this winter, hoping to win a spot on the bench, but a knee injury held him back. Over his 15-year career Giles amassed a triple slash of .291/.400/.502, good for a 136 OPS+, including 287 home runs and 1,897 hits. He's certainly not a Hall of Famer, but anyone who finishes his career with a .400 OBP and .500 SLG certainly ranks among the best of his era.
The Yankees and Giles crossed paths in the winter of 2005-2006, as the Yankees sought their center fielder of the future. Bernie Williams, in the last year of his seven-year, $87.5 million deal, had declined considerably over the last few years and by May was replaced in center field, temporarily, by Tony Womack. Even Melky Cabrera got a premature shot that July. With Bernie's contract off the books, the Yankees could concentrate on finding a true center fielder.
One attractive name among the free agent class was Brian Giles. He had played just 133 innings in center field in 2005, and just 711 in the decade to that point, but the Yankees thought his athleticism would allow him to transition well to the position. Mostly, though, they wanted his bat in their lineup. Even in a down year, 2004, he posted a .366 wOBA. From 1999 through 2003 he had kept that mark over .400, and in 2005 he rebounded to .393. He would have figured somewhere in the middle of the order, along with Alex Rodriguez, Gary Sheffield, and Jason Giambi.
The Yankees made their interest known, even enlisting Joe Torre to make the same phone call that wooed Giambi, Mike Mussina, and (sigh) Carl Pavano. It turned out, though, that Giles was never really interested in joining the Yankees and ended up signing a three-year, $30 million contract with the Padres with a $9 million team option for 2009. The Yankees, still needing someone better than Bubba Crosby in center field, ended up signing Johnny Damon less than a month after losing out on Giles.
Though Giles seemed like the better target at the time, the Yankees dodged a bullet when he signed with San Diego. While he had a full and healthy 2006 season, his production declined to below his 2004 level. This came mostly with his power. His ISO dropped to .134, about .050 lower than his previous career low — which came in 2005. Giles did recover some power over the following two seasons, and did have a quality 2008 season. But in each season from 2005 through 2009 Damon outhit him. Giles also performed poorly on defense in right field, and probably would have flopped in center for the Yanks.
At the time, I was a Giles advocate. That OBP was too pretty to pass up. What I did not consider was that Giles could decline with age. He was 35 for the 2006 season, and age certainly did take its toll. I can only imagine what would have happened to the Yankees had they signed him.
Photo credit: Eric Risberg/AP