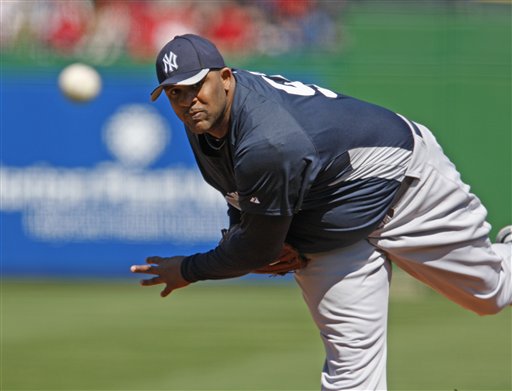 In his first outing of the spring, Yankee ace CC Sabathia allowed a pair of walks and a pair of hits in a pair of innings against the Phillies, which is about as uneventful as a Spring Training start can be. Remember when CC allowed five runs against the Tigers or something like that last year? Now that's a story. Anyway, Sabathia takes the mound for the second time in the exhibition season this afternoon, facing the same Pirates' squad the Yanks' B-team one hit yesterday in Bradenton.
He'll be opposed by Charlie Morton, one of the players Pittsburgh got back in the Nate McLouth trade. Nothing really to get excited about, maybe we'll luck out and get to see some Jose Tabata or Dan McCutchen action. Ah the glory days of 2006 … no wait, I like 2010 better. Anyways, here's the starting nine…
Jeter, SS
Johnson, DH
Posada, C
A-Rod, 3B
Granderson, CF
Swisher, RF
Winn, LF
Miranda, 1B
Russo, 2B
Scheduled Pitchers: CC Sabathia, Boone Logan, Dustin Moseley, Hector Noesi, Royce Ring, Romulo Sanchez (thanks to Mark Feinsand)
First pitch is scheduled for 1:05pm, and can be see on YES.
Photo Credit: Kathy Willens, AP