In three of the last five seasons the Yankees have performed poorly in April. In 2005, fresh off their ALCS collapse, they went 10-14. In 2007 they went 9-14. While in those seasons they fought back to make the playoffs, 2008 went a bit differently. They didn't start as poorly, at 14-15, but also didn't have the same mid-season surge that lead to their 2005 and 2007 comebacks. Another difference: they didn't have Alex Rodriguez pummeling baseballs.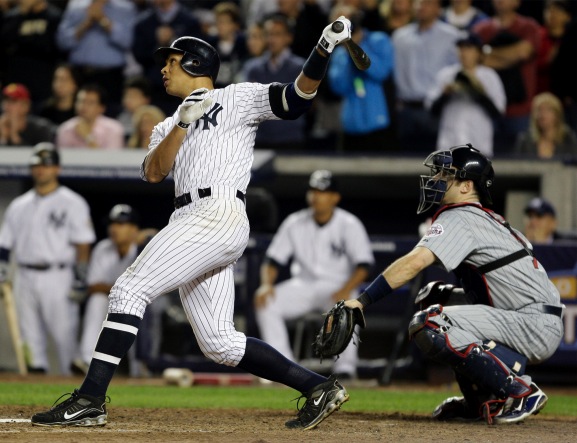 Photo credit: Julie Jacobson/AP
Over his career, A-Rod has been a standout April performer. In 1,311 plate appearances he has hit .311/.391/.611. The only month in which he has performed better is August. Those early season displays and late-season surges have helped the Yankees out of a few jams. For instance, can you imagine the 2007 team without A-Rod's April heroics? They easily could have gone 6-17 and found themselves in a much tougher situation to start May.
The 2009 Yankees did not have the benefit of A-Rod's hot early season bat and suffered because of it. While he wouldn't have made a difference in two of Chien-Ming Wang's starts, which caused the team to allow more runs than it scored in April despite 12-10 record, A-Rod could have made a difference in a number of games. For instance, his added offense might have rendered the bullpen meltdown on April 12 moot. Maybe his added offense on April 24 gives the Yankees a win against the Sox.
Even beyond these close games, A-Rod's presence in the lineup has a cumulative effect on the hitters behind him. Instead of facing Teixeira-Rodriguez-Matsui in the middle of the order, in April pitchers had Teixeira-Matsui-Posada. The effect trickled down the lineup to the end, where pitchers faced Swisher-Gardner/Melky-Ransom, rather than Cano-Swisher-Melky. That makes the lineup a bit easier to navigate. Starting pitchers could get through the lineup with fewer pitches, leaving lesser pitchers sitting in the bullpen. The Yankees are known for working up pitch counts, and without A-Rod that strategy was weakened.
How many runs would a healthy A-Rod have added in April? His collective replacement — Cody Ransom, Ramiro Pena, and Angel Berroa — hit .214/.283/.310 over 92 plate appearances. According to linear weights, that amounts to just under seven runs created. To be nice, let's round up to that. First, for the extreme, let's insert A-Rod's 2007 April, in which he hit 14 home runs. That year he would have been worth 28.6 runs. In other words, if we subtract the seven runs generated by his replacement and add in his runs, that's 149 runs scored in April. In his other MVP season, 2005, he created 19.6 runs in April, which would have brought the Yankees' total to 140. Even if we use his even-worse April 2008 he created 14.5 runs, double his 2009 replacements.
For the Yankees, getting off to a hot start now is more important than ever. While they were able to recover from a stagnant start last year, there's no guarantee that they can do so in a similar manner this season. Even if they do, it won't be like 2005 and 2007, when the Red Sox were the only team standing in their way. This year the Rays figure to be a formidable opponent, as they were in 2008 and 2009. The Rays, by many indications, hit a streak of bad luck early on. They scored 110 runs and allowed 103 in April, yet finished the month with a 9-14 record. If they catch a few breaks this season, the division could be a three-horse race to the end. In that situation, there isn't much room for teams who start slow.
How does A-Rod break down among the various projection systems?
While his BA projects a bit lower than career average and his OBP hits his exact career mark, the systems are bearish on his power and his ability to play a whole season. This is understandable, of course. Rodriguez has missed 54 days over the past two seasons with injuries, so leaving room in a projection for a 15-day DL stint makes sense. If fully healthy, though, I expect A-Rod will outperform these projections, probably to the tune of .300/.400/.580.
Even better, if his monthly stats break down along his career lines, he'll be a big help early in the season. Perhaps his production can offset Mark Teixeira's presumed slow start. Thankfully, Alex's other big month is August, when the Yankees should again be working to gain comfortable control of the AL East. Early season and mid-summer surges could push the Yanks over the top in 2010, even as they're faced with increasingly tough competition in the Sox and Rays.