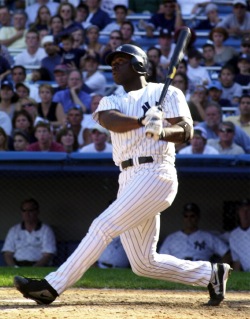 After an off-season spent assembling a roster, teams get a month-long look at players during spring training. Plenty can change during this time. Players step up and players get hurt. This can change a team's season outlook. If, for instance, a key player succumbs to an injury the team might be more inclined to trade for a replacement. Yet we typically don't see many inter-team transactions in March. Since he took over in 1998 Brian Cashman has made only a handful himself, and none was particularly significant. A couple do stand out, though.
In Spring Training 2003 the Yankees had a logjam of sorts. For years they had sought a stable left fielder. In the winter of 2001 they pursued Moises Alou, but by the Winter Meetings had given up. Instead, Cashman signed Rondell White to a two-year, $10 million contract. The team had apparently been interested in White for years, but when the opportunity to trade for him two years prior, in the summer of 2000, they shied away because of the time White had missed over the past few seasons with knee injuries. He ended up missing all of September that year.
The Yankees still had high hopes for White heading into the 2002 season, despite his having played only 95 games in 2000. Early word, upon his signing, was that he could have hit as high as fourth, with Bernie Williams, Derek Jeter, and recently signed Jason Giambi hitting ahead of him. Yet things did not go well for White, who started off by hitting .232/.287/.404 in April and never really recovered. His slugging actually went down as the season progressed, and he ended the season with a .240/.288/.378 line over 494 plate appearances. He did pick up one hit that postseason, a home run in the Yankees' Game 1 victory over Anaheim. He didn't get into another game.
During the following off-season the Yankees signed Hideki Matsui to a three-year, $21 million contract. While Matsui had played center field in Japan, he figured to play left in the majors. This left White seemingly without position. Cashman tried to trade him early in the off-season, but found no takers. Unwilling to send White away for nothing, the Yankees went into Spring Training 2003 with two players for one position. But as March wound down, Cashman hooked up with an old buddy on a trade.
In his fifth transaction with Padres general manager Kevin Towers, Cashman traded White for outfielder Bubba Trammell and left-handed pitching prospect Mark Phillips, the No. 9 overall pick in the 2000 draft. Surprisingly, cash didn't trade hands between the teams. Trammell had two years and $7.25 million left on his contract, while White had just one year and $5 million. The money evened out, in the Yankees' eyes, because the Padres had paid Phillips a $2.25 million signing bonus upon signing him.
White did make a recovery in the final year of his contract, hitting .278/.330/.465 in 449 plate appearances before the Padres traded him, in August, to Kansas City, where he hit the cover off the ball for 85 plate appearances. Trammell made just 61 plate appearances through June 22, hitting a paltry .200/.279/.291. At that point he left the team without permission, forcing the Yankees to place him on the restricted list. He said he was depressed, but that didn't stop the Yankees from releasing him and filing a grievance to recover a portion of his salary. He signed with the Dodgers that off-season and then, after being cut, signed with the Rays, but he never made another major league appearance.
The main aspect of the trade from the Yankees' end was Phillips. Control had been a problem for him at Class-A Advanced Lake Elsinore in 2002, but he still managed to strike out more than a batter per inning while allowing only 9 home runs through 148.1 innings. This made him the No. 84 prospect in baseball heading into the 2003 season. His Yankees career didn't go so well, though, lasting just 13 starts spanning 70.1 innings. His strikeout rate dipped, his walk rate rose, and while he still kept the ball in the park it didn't much matter. I'm not sure what happened to him after that, but he didn't play at all from 2004 through 2006, making a 32.2 inning comeback with Newark of the Independent League before hanging them up for good.
In terms of results, the White trade didn't go so well. The Yankees got a busted prospect and a bench player who hit poorly even by those standards. It's a shame what happened to Trammell, though it's tough to blame the Yankees for placing him on the restricted list. The key to the trade, Phillips, didn't work out, making the deal look a little worse. But from the Yankees' perspective, they were trading a spare part for a potentially useful player. It's not every day that a team can trade a player who had a .666 OPS the previous season for the No. 84 prospect in baseball. Sometimes these things just don't work out.
Photo credit: Osamu Honda/AP