With trades, attrition, and graduation taking their toll on the Yankees' farm system, the 2010 draft represents the team's first chance to infuse the organization with some much needed high upside talent. College players certainly offer quality, however by the time they're eligible for the draft, they've usually been heavily influenced by college coaches more focused on winning than development. High school players often come with higher ceilings because they get to do basically all their development under professional instruction.
Bryce Harper should technically be a junior in high school, but his decision to get his GED and move on to junior college not only looks genius at the moment (he's hitting .422-.516-.891 with 15 homers and 13 doubles in 39 wood bat league games), but it also gives him tremendous leverage since he'll be eligible for the next four drafts.  The top true high school prospect this year is Texas righty Jameson Taillon, who's touched the upper 90's with his fastball and shown a put away slider. He's not as good as Tyler Matzek (last year's top prep prospect) because his command comes and goes and he's maxed out physically (6-foot-7, 230 lbs), but he's still a legit top five prospect.
The Yankees have selected high school players with three of their five top picks under scouting director Damon Oppenheimer, so even though he loves polished college players, he'll certainly grab a talented high schooler if they're out there for the taking. Here's three players that could be available when the Yanks' first pick (32rd overall) comes up this June…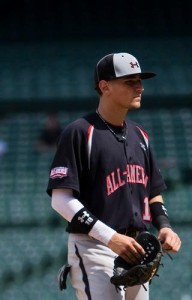 Nick Castellanos, SS, McCarthy HS (Fl.)
First off, Castellanos is not going to stay at short long term. He's already 6-foot-3, 190 lbs and doesn't have the athleticism for the position, so a move to third base will be almost immediate upon signing his first pro contract. He has the arm and the hands for the hot corner, but if he gets even bigger than expected a move to an outfield corner will be necessary.
The good news is that Castellanos can hit. I mean really hit. He's incredibly strong for an 18-year-old, which gives him good present power and should allow him to launch some serious bombs as he gets older. His bat speed is good and his swing is fine, not textbook, so he should compliment his immense power with a good batting average.
Rumors are circulating that Castellanos is looking for anywhere from $5-$7M to skip out on his commitment to Miami, which is no doubt pricey. It's Justin Upton money, basically. Castellanos isn't that good and I doubt he gets a bonus that large (we always hear talk of high schoolers wanting enormous bonuses this time of year), but $2-3M isn't out of the question.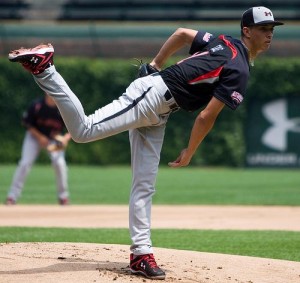 A.J. Cole, RHP, Oviedo HS (Fl.)
Cole's been on the radar for a few years now, but he's kinda getting lost in the shuffle with some bigger named (and bigger armed) high schoolers popping up around the country. However, Cole might be the most complete prospect of the bunch, flashing velocity and quality secondary offerings with plenty of room for projection.
Listed at 6-foot-5 and 185 lbs, Cole is an incredible athlete with a fluid delivery and a free and easy arm action. His fastball sits in the low-90's but has touched 95, with plenty of room to improve down the road. An upper-70's slider acts as his second pitch, but the Yankees' brass would probably have him switch to a curveball given his loose arm. Cole also throws a change, which is in it's infancy like a typical high schooler's. The only knock on Cole is that he tends to go into cruise control while facing inferior competition, though his work ethic is fine. He can just get complacent at times.
On pure talent, Cole should go in the top ten picks, but he's a candidate to fall if his bonus demands don't match up with the value teams place on him. Committed to Miami like Castellanos, Cole shouldn't be there when the Yankees first rounder comes along, but it's very possible he will be. If so, he's an absolute steal at that spot.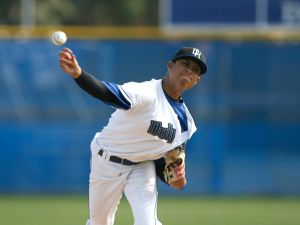 Peter Tago, RHP, Dana Hills HS (Cali)
A bit of a late bloomer, Tago has started to flash some serious velocity as the spring has progressing, reportedly touching 95-96 in recent outings. His breaking has sharpened up and has morphed into more of a true slider than the slurve he was throwing previously, and his changeup is pretty good for a prepster as well. Tago's build is a scout's dream, as he stands 6-foot-1, 190 lbs with broad shoulders and plenty of room to fill out. It's not hard to envision his newfound velocity sticking as he matures. He's going to have to work to keep his delivery in check – he currently throws from a low-3/4 slot but tends to drift – though that's nothing uncommon for a high schooler.
I'm always a bit weary of guys like Tago that pop up late, but he was a top 100 draft prospect before the velocity spiked anyway. We still haven't heard anything about bonus demands, but he's committed to UCLA, which stirs up bad memories of Gerrit Cole. In a perfect world, he'd still be available when the Yankees second round pick (82nd overall) comes around, but that seems unlikely.
* * *
Of the three players mentioned, Castellanos is most likely to drop to the Yankees because of his enormous bonus demands, but there's also a chance he falls further into the middle rounds and ends up one of those double-digit round, seven figure bonus guys. The kind of draft pick that didn't exist until four or five years ago. Cole represents the best case scenario for the Yanks' first pick, so cross your fingers.