It's no secret that Javy Vazquez has underwhelmed in his first two starts this season. Not only has he allowed 12 runs in 11 innings, but he's only thrown 58.8% first pitch strikes and has gotten just 7.6% swinging strikes, both well below his career averages. Javy will make his third start of the season tonight, and the good news is that there's going to be a lot working in his favor.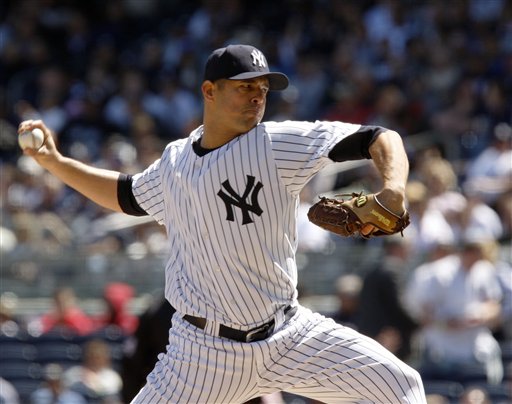 The A's have started the season well with a 9-5 record and +15 run differential, though they've spent a lot of time beating up on the punchless Mariners and awful Orioles. As a team they hit a fair amount of fly balls (37.2%) despite not really having any homerun threats in the lineup, and they make contact on 84.1% of the swings they take, one of the best rates in the league. Their offense is built a lot like the Yankees in that they make a ton of contact and hit lots of balls in the air, but they don't put as many men on base (8.7 BB%) and they certainly don't have the same kind of power.
Oakland's home park is rather spacious with an infamous amount of foul territory. Over the last three years it's suppressed homers and doubles to about 91% of the league average, though it'll certainly beef up the number of triples hit. Three-baggers are kind of a special case anyway, because they usually require an exceptionally fast runner and/or an outfielder misplaying a ball to happen. Anyway, Javy's going to have the advantage of facing a team without much power in a park that already suppresses extra-base hits, something you couldn't say about his last two starts.
Some of his struggles have been attributed to mechanical issues, but there's bound to be some confidence issues here as well. How could there not be after getting smacked around in two starts and getting booed off the mound at home? A strong outing and a win could go a long way just toward restoring an measure of normalcy to Javy's baseball life, which could have a big effect going forward.
No one expected Vazquez to come in and be the pitcher he was last year in Atlanta, but we all certainly expected him to be better than he has been thus far this season. That said, it's still just two starts. If he put two outing like that together in the middle of June, no one would care, but because they happened in his first two starts of the year, well it's the worst thing in the world. April has this strange way of magnifying things. The matchup tonight features an impatient and power deficient lineup in a pitcher's park, so everything's working in Vazquez's favor.  It's a good opportunity for him to go out, toss up some zeroes, and walk away with a win and a boost his confidence.
And you know what? If he doesn't, that's not the end of the world either. His season will be just nine percent or so complete by this time tomorrow. There's lots of time left.