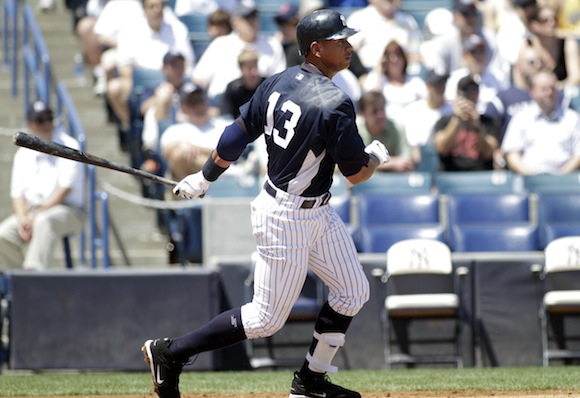 A-Rod tees off during Friday\'s Grapefruit League action. (AP Photo/Brian Blanco)
Although Alex Rodriguez never had an opportunity during Spring Training to meet with the feds investigation Anthony Galea, the Yanks' third baseman did speak with Major League Baseball's own investigators late last week. According to subsequent reports, MLB officials were, in the words of A-Rod, "very happy" with his answers.
Michael S. Schmidt of The Times reports that A-Rod denied receiving any performance-enhancing drugs from Dr. Galea. Rodriguez says he received anti-inflammatories for his hip from Galea but did nothing illegal. "It went well," A-Rod said to reporters. "I cooperated. They were very happy. And that's it. I can't really get into it that much."
Meanwhile, A-Rod's meeting with the feds may finally happen this week, the Daily News reports. Originally scheduled for Thursday, the meeting was postponed when A-Rod's lawyers requested an extension. They wanted to avoid a media scrum in Buffalo. Yankee and MLB officials, however, would prefer to see this interview over and done with, and there's an outside chance that the feds will accept notes from A-Rod's meeting with MLB in lieu of a statement from A-Rod himself.
As various news outlets have reported, the Yankees have been less than thrilled with A-Rod for his connection to Galea. Both the team and Marc Philippon, the doctor who preformed A-Rod's hip surgery last spring, say they never gave Galea the OK to treat Rodriguez, and A-Rod apparently went to the Canadian doctor himself.
The Yankees have two days off this week, and hopefully, the government can find the time for A-Rod then. I want to be optimistic and say that once A-Rod meets with the feds as a witness, this will be the last we hear of Galea this year. With A-Rod, though, you just never know.