If only the starts lined up right: Andy Pettitte debuted 15 years ago yesterday.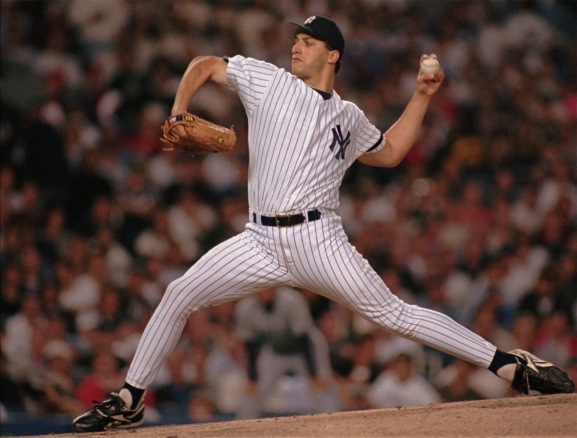 Freddy Garcia has gotten off to a horrible start in 2009. He pitched a Pavano-esque 129 innings from 2007 through 2009. Last season he came back last August with the White Sox after failing to catch on with the Mets earlier in the season, and actually pitched fairly well. His 56 innings mostly came in September, not the best month on which to base an analysis.
This season he's off to a slow start, a 5.82 ERA in 17 innings spanning three starts. Walks and home runs have killed him. The Yankees do two things exceedingly well. They take walks, and they hit home runs. It sounds like a perfect combination for a night of baseball in the Bronx. Only problem is, it has the makings of a reverse lock.
Garcia, now 35, put together a solid career with the Mariners and White Sox. From his rookie season, 1999, through 2006 he missed the 200-inning mark just once. He had a 113 ERA+ during that span, 16th highest among pitchers with more than 1,400 innings pitched. His opponent tonight, Andy Pettitte, had a 117 ERA+ during that span, 13th overall.
In his career Garcia has faced the Yankees 10 times, pitching 68.1 innings and allowing 34 runs, 32 earned, for an ERA of 4.21. One of those instances came last season, when the Yankees got to Garcia for three runs in six innings. Before that he hadn't faced them since 2006. The team is quite a bit different now.
Pettitte has faced the White Sox 23 times in his career, not including the 2005 World Series. He's had his good games and his bad, allowing 75 runs, 67 earned, in 139 innings. His last outing came last year, when he struck out eight White Sox and walked none in 6.1 innings.
Posada's out of the lineup again, though he says he's fine. Girardi said he could use him tomorrow or Sunday. I might be worried if he doesn't.
Lineup:
1. Derek Jeter, SS
2. Nick Johnson, DH
3. Mark Teixeira, 1B
4. Alex Rodriguez, 3B
5. Robinson Cano, 2B
6. Nick Swisher, RF
7. Curtis Granderson, CF
8. Francisco Cervelli, C
9. Brett Gardner, LF
And on the mound, number forty-six, Andy Pettitte.