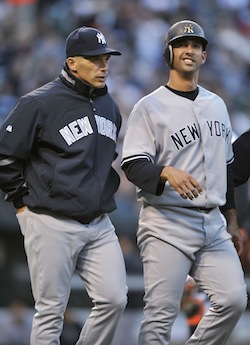 When a Jeremy Guthrie fastball tailed in on Jorge Posada and hit him above the knee on Wednesday night, the Yanks' catcher was clearly in pain. He walked slowly down to first base, limped awkwardly to second and eventually scored but with Curtis Granderson right behind him. He never made it back into the lineup.
Yesterday, the Yanks said Posada was day-to-day. Supposedly, he could have caught in an emergency, but the pain and swelling in the area around his fibular head was substantial. He probably won't play this evening either, and no one is sure how long he'll be out. Today, in his Under the Knife column, Baseball Prospectus' Will Carroll sheds some light on the injury:
Ben Wolf … points out something about Posada getting hit by a pitch Wednesday that hadn't occurred to me: "Was reading your latest column and saw that Posada was hit in the fibular head (I had just read knee in the general news). Even if there isn't a fracture, there's a risk of the injury being more of a long-term problem if he ends up with any restriction in the superior tibiofibular joint, especially considering the demands of a catcher squatting on the knee (including that joint specifically I think), not to mention any mechanistic problems he could have running. I suppose we will see." …Posada says he could catch if it was an emergency, but it's clear that it's the squatting that's the problem. We'll see how the Yankees deal with this over the weekend, but expect Posada to miss time. At best, he could DH, but I think they'll hold on to the retro DL move until they're more sure.
I'm not entirely sure who Ben Wolf is but initial Google searches indicate a Ben Wolf associated with Medtronic. We can apply his views broadly to see how the Yanks treat Posada over the next few days.
For the Yankees, Jorge Posada is a key offensive piece of their puzzle. On the young season, he's hitting .316/.400/.649, and his success makes it easy to overlook Mark Teixeira's struggles and A-Rod's recent hitless streak. With Posada out of the lineup and Cervelli in, the bottom of the order looks significantly weaker even if the team's defense — and overall base running — improves.
The team should give Jorge some time to heal, and if he misses 15 days, it's not the end of the world. He was on the shelf for 25 days last May, and the Yanks managed without him. Cervelli will get the bulk of the player time, and the team will bring up Chad Moeller to serve as a backup if Posada must be DL'd.
For now, it's just a bruise, but by the end of the weekend, we'll know more. If Jorge doesn't see game action this weekend, I'd expect a trip to the disabled list. Even if he's available to pinch hit or DH, the team can ill afford Ramiro Peña as their backup catcher for an extended period of time.