This type of game will happen. Javy Vazquez wasn't sharp, though he managed to limit the damage through five innings. It looked like he might escape doom in the sixth, but it was not to be. Not only did he allow a run on a Kendry Morales double, but Morales himself came around to score later in the inning, courtesy of Al Aceves. Mike will have more on the Morales at-bat in the morning. For now, onto the recap.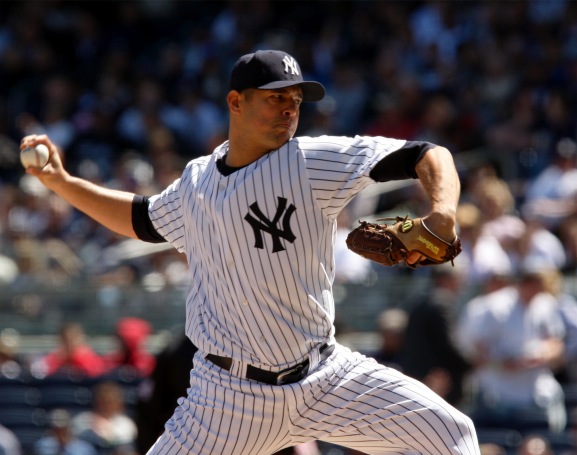 Biggest Hit: Swisher triples
Joel Pineiro had his sinker working yesterday, and it had Yankees' hitters baffled. Through four innings they managed just one hit, a Robinson Cano double off the glove of Torii Hunter. Cano managed another hit off him in the fifth, this time a single to left. To groundouts moved him to third base with Nick Swisher at the plate.
While the count didn't run to 3-2, Swisher did make Pineiro work, fouling off three straight 2-2 pitches after not swinging at the first four. Pineiro tried to mix things up later in the at-bat, throwing a curveball and then a changeup, but on the eighth pitch went back to the sinker. It caught enough of the zone that Swisher was able to make solid contact, driving it to right-center. Cano scored easily, and the outfielders were so ill-positioned for that particular hit that Swisher made it all the way to third.
This was actually the biggest hit of the game from either side. The Angels spread their runs out, and since the Yankees never got too close the Angels gradually moved closer to that 100 percent WPA mark. Swisher's hit was huge because not only did it cut the Angels lead to one, but it also made Swisher the potential tying run. Brett Gardner, however, could not deliver.
Biggest Pitch: Abreu continues owning Vazquez
When Abreu came to bat in the first inning, Michael Kay mentioned how well he had hit Vazquez in the past. He spoke mostly of counting stats, but here are the rate stats, just for fun: .282/.358/.746. In other words, Abreu posted a decent BA and OBP against Vazquez, but when he hit it he hit it a ton. A hit in the first improved those numbers, but his third-inning double did the most damage.
With Erick Aybar standing on first, Abreu took a called strike one on the low-outside corner. Vazquez came back with a changeup, again outside, but this one ran a bit high. Abreu laid into it, lining it to center. It got behind Curtis Granderson, and Aybar came around to score. Brandon Wood had previously scored on Aybar's single, so this staked the Angels to a 2-0 lead. It also led to boos from the Stadium denizens. Where do we get these fans?
Vazquez actually recovered decently, pitching two more scoreless innings before running into trouble again in the sixth.
Biggest Blunder: The eighth inning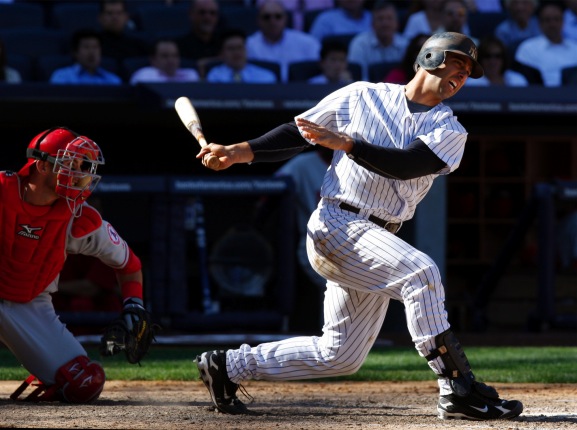 With a 5-1 lead heading into the eighth inning, the Angels looked poised for victory. Mike Scioscia turned to his erstwhile setup man, Scot Shields, long-time Yankee-killer, to hold a four-run lead. It was immediately clear that, at least on this day, he was not up to the task.
After a failed bunt attempt Shields delivered four straight pitches out of the zone to Brett Gardner. That's usually a terrible way to start an inning, but with the Yanks down four it was unlikely Gardner would take a base. Derek Jeter tapped one to the pitcher after taking two pitches, and he beat out the throw to first, setting up the Yanks with runners on first and second.
Nick Johnson might have had the best at-bat of the game in this spot. He took the first three pitches, a called strike followed by two balls, before fouling off the next five. On the at-bat's ninth pitch Shields went back to his curveball and placed it on the outside edge. Johnson jumped on it, though, lining it to center and scoring Gardner. The Yanks, as they always seem to do, sent the tying run to the plate.
Scioscia had seen enough of Shields. With the game on the line he turned to Kevin Jepsen, who was all over the place. It did work to his advantage, though. A wild pitch put runners on second and third, but Mark Teixeira couldn't deliver. He grounded one to short. It scored Jeter but didn't advance Johnson and accounted for the inning's first out. Alex Rodriguez drew a walk in the next at-bat, so he became the tying run.
Robinson Cano whaled one to third base in the next at-bat, and I have no idea how he beat out the double play. It looked tailor-made, especially for a player with Cano's speed. He was just safe, though, preserving the inning. Here's where Jepsen's wildness helped. After throwing just six of his first 15 pitches for strikes, Jepsen came back with two straight in the zone to Posada. He took both, and eventually — and predictably — struck out on a low slider.
Teixeira's ground out lowered the Yankees' chances of winning by 8.3 percent. Cano's fielder's choice brought it down another 8.8 percent, and Jorge's strikeout, with the tying run on first base, sunk it another 9.8 percent. The Yanks had a grand opportunity to tie the game, or at least bring it within a run, and failed to do so.
Aceves slowing it down
Either the gun was cold — which is possible, since Vazquez topped out at 90 — or Aceves was a bit slow with the fastball yesterday. It topped out at 89 on the Pitch f/x gun. He didn't look very good in general, perhaps because he hasn't gotten much work this season.
Things that annoyed me
The eighth, even though the Yanks scored runs. It seemed like a classic comeback in the making. Instead if was marred by middle of the lineup futility. Thankfully, we know these guys will come around.
Hideki Matsui. Come on. The Angels hit three doubles today. I'm not wishing Matsui added to that, but rather that he hit a double in place of, say, Torii Hunter.
The fans. There's no need to boo Vazquez, especially in the third inning. He recovered nicely, and he nearly finished his appearance with six innings and two runs. Alas, that was not to be, and the sixth inning was quite annoying. Still, there's just no need for the booing, especially in freaking April.
Mark Teixeira. Yeah, I know. We've seen his April struggles first-hand and know that he makes up for it later. It doesn't make it any less annoying while it's happening, though.
Also, it's been two games at home this season and we haven't seen a walk-off. This team is clearly a bust.
Things that made me smile
Joba. He allowed a hit, struck out a batter, and still needed only nine pitches to retire the side.
Robinson Cano's continued excellence. Even in the eighth he whaled the ball. Too bad it was right at Wood.
Nick Swisher. For his gritty at-bats and his hustle around second and into third.
Nick Johnson. Coming through big.
Also, someone mentioned this in the chat last week. New York Nicks. That gonna take?
Derek Jeter. Because while it seems everything he hits is a grounder to short, he's still hitting .324.
WPA Chart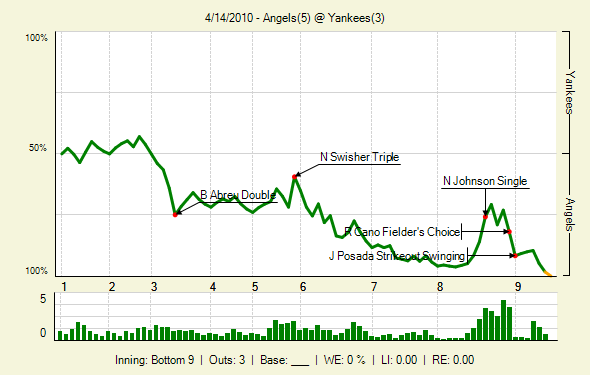 To FanGraphs for the full boxey.
Up Next
It's a battle of season debuts, as Phil Hughes takes on Scott Kazmir tomorrow at 7 p.m.